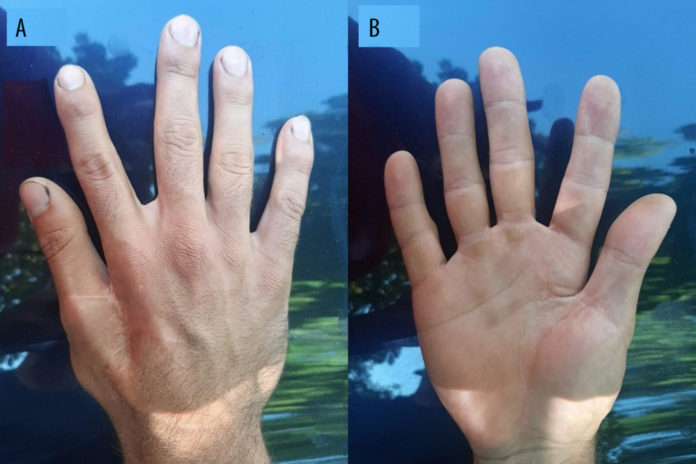 First web space contracture
This article describes the case of a 36-year-old patient who presented with severe first web space contracture of the dominant hand. The patient's primary complaints were loss of hand mobility, limited ability to grasp and "give a proper handshake". His medical history was significant for a gunshot wound in early childhood. Treatment included mild web release after the point of trauma. However, the outcome was insufficient and the patient was not satisfied with the procedure. According to the patient, his hand had not improved. And he did not seek any further medical attention.
First web space contracture is defined as a condition that affects thumb function and grasping capacity. The condition alters normal pathology and anatomy, resulting in decreased ability of the hand. In such cases, appropriate release and resurfacing is needed for restoring normal hand function. Other principals of successful treatment include providing healthy compliant skin for a smooth healing period.
Clinical examination
The patient's clinical examination showed severe thumb contracture with an index angle of 12 degrees. Other findings included dorsal scarring affecting the first web space proximal to the meta-carpal bone. The patient's range of motion was also impaired. According to the study, "the mean range of palmar abduction of the carpometacarpal joint (CMCJ) was of about 20 degrees, retroposition of about 10 degrees, radial abduction of about 22 degrees, opposition Kapandji grade 5, and adduction of about 2 degrees". However, neurovascular function was normal.
Doctors further advised a patient answered survey, goniometry of the thumb index angle and an X-ray of the affected hand. The thumb index angle was measured for the severity of the condition. X-ray ruled out diagnoses affecting the bones or joints, for example, arthritis and congenital dysplasia. Finally, doctors advised The Disabilities of the Arm, Shoulder and Hand (DASH) questionnaire which showed impairments of activities, indicating moderate disability.
Treatment and prognosis
The patient was advised the Manta Ray flap procedure for moderate web space contractures. Although the procedure was initially approved for children, it ensures sufficient web space lengthening even in older patients. Given that there is enough healthy unscarred skin available. After the procedure, the patient was advised an aggressive rehabilitation program for 3 months. There were no adverse events recorded. Overall, the patient had an uneventful recovery.
Source: American Journal of Case Reports