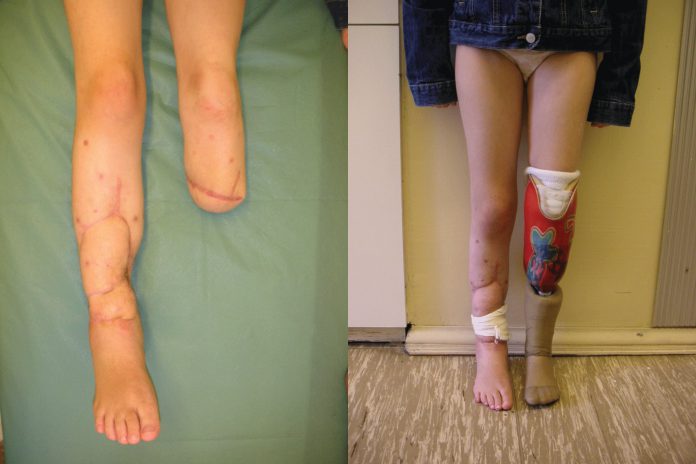 A mangled limb in paediatric patients is a therapeutic dilemma of whether to amputate or save the limb .
The case study is of a 10-year-old child with high impact injury in both lower limbs.
Treatment plan consisted of segmental bone muscle and skin cross leg flap which successfully allowed the patient to walk using PTB prosthesis without limp.
A 10-year-old girl presented to the emergency department with a crush injury of the left foot and an open tibial fracture on the right side, after being run over by a tram. On examination, the plantar sensation and pulse were present on the right foot. However, the left foot required amputation on the level of the ankle joint, despite vacuum therapy, local and parenteral antibiotics and multiple debridements because of a deep infection.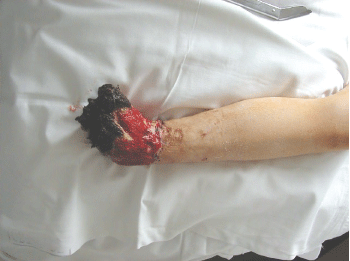 In addition, a deep infection on the right side also required several surgical procedures with infected tissue debridement which resulted in bone defect with accompanying diaphysial bone defect of distal tibia on the same level.
Similarly, the remaining stump of the the skin on the left leg was not suitable to be used for prosthesis, therefore, surgeons planned a below knee amputation on selected level. The remaining distal part of the left leg, however, was intended to be used for reconstruction of segmental defect on right tibia as a donor complex.
The first stage of the reconstruction procedure was performed after determining the level of amputation. The pedicled skin segment and bone muscle on the left leg was dissected and place into the defect on the right side. The limbs were temporarily stabilised using Ilizarov fixator.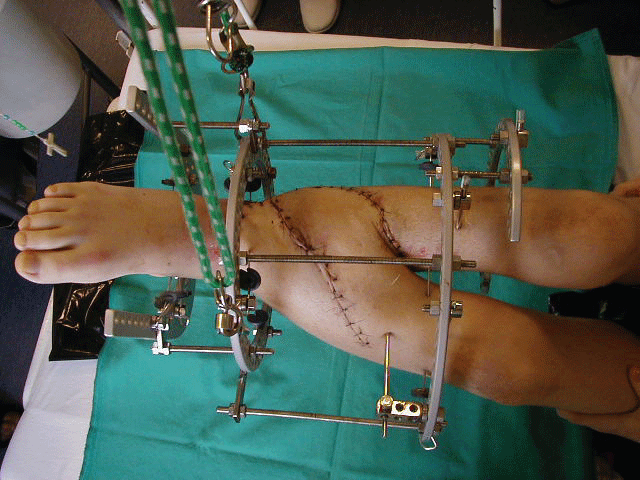 A second stage of reconstruction was performed after 4 weeks on the left side, with final formation of below knee stump and change of configuration of Ilizarov fixator on right side.
After 3 consecutive months, the soft tissue flap had healed. An x-ray was performed which showed a union between the transported bone segment and defect on right tibia. This allowed the removal of the external fixator.
The infected complex segmental tissue defect on right tibia and below knee stump on the left side had completely healed. The patient was eventually able to walk with no visible limp using PTB prosthesis. No growth disturbances were observed and there was no recurrence of infection even 10 years after the surgery.
References
Segmental Bone Muscle and Skin Cross Leg Flap for the Treatment of Posttraumatic Infected Segmental Bone Defect in a Child- A Case Report https://clinmedjournals.org/articles/tcr/trauma-cases-and-reviews-tcr-1-011.php?jid=tcr