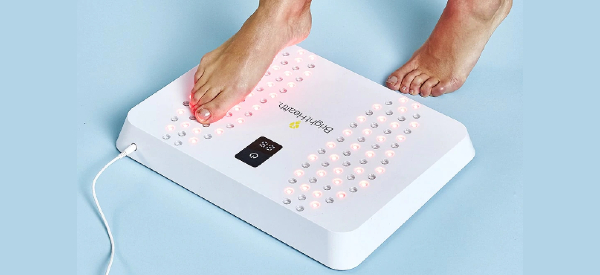 A Red-Light Therapy Device for pain relief and many other pain related conditions
Whether light therapy devices relieve pain and promote healing remains questionable. However, studies have demonstrated various benefits. Like LumiWave, FDA approved Class II medical device, Red Light Therapy Foot Pain Relief Device is a newer solution to pain relief. The design of the device helps people suffering from heel and foot pain. Moreover, it is an OTC Class II Medical Device. It is cleared by FDA for pain relief and it uses infrared and red-light LEDs.
The Red-Light Device looks like a body weighing scale in a large size. It consists of 124 medical-grade 880nm invisible infrared and 660nm visible Red Light LEDs, divided into separate foot patterns on the top surface of the device. Furthermore, the device also has a small LCD display that shows your body weight. You do not need to have skin contact with it for very long either. The typical light exposure is 20 to 30 minutes.
As per Bright Health, the Foot Relief Device can help in relieving pain that is associated with arthritis, plantar fasciitis, neuropathy, and tendonitis. In addition, the device accelerates healing, repairs tissue, and relaxes the muscles.
Boosts ATP
Bright health also states that their red-light therapy increases ATP to boost cellular energy. It also repairs and regenerates cells faster, releases nitric oxide at an increased level, produces collagen, and stem cell aviation. The manufacturer has also cited studies that support the benefits of red-light therapy, which also includes improving blood flow, repairing, and healing tissue. In addition, it improves joint health, provides recovery from exercise injury, and improves bone repair.
The device is easily available and affordable for most considering the potential benefits. The Bright Health Red Light Therapy Foot Pain Relief Device is useful for active athletes who suffer from chronic and acute foot pain.