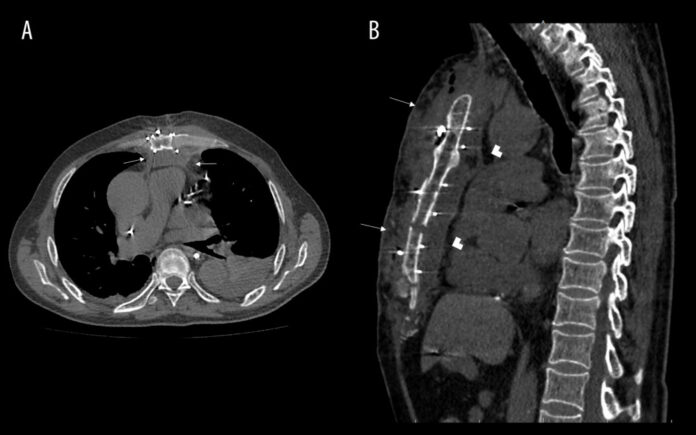 This article presents the first case of Aspergillus mediastinitis, a postoperative complication of cardiac surgery, in Brazil.
A 74-year-old man came to a university hospital with complaints of typical angina symptoms, for example, tightness and chest pain. The pain was sharp in nature, radiating to the left upper limb. Moreover, the patient had a medical history of hypertension but no diabetes mellitus. The doctors performed emergency percutaneous cardiac catheterization which revealed three-vessel coronary artery disease. Then, the doctors performed coronary artery bypass surgery which went uneventful.
Post-operative Complication: Aspergillus Mediastinitis
On the 9th day after the surgery, the patient presented with sternal instability and fever. His complete blood count showed anaemia, leukocytosis, and an elevated CRP and ESR. The doctors also performed a chest computed tomography scan which revealed sternal dehiscence. كازينو 888 Moreover, the mediastinal fluid collection suggested mediastinitis. 
The doctors treated the patient with a range of antibiotics, however, no clinical improvement was seen. On the 33rd day, the culture of mediastinal fluid and biopsied tissue revealed the growth of Aspergillus species. This confirmed the diagnosis of aspergillus mediastinitis
Treatment
The patient was treated with antifungal medication voriconazole for 30 days and he was discharged from ICU after his surgical scars healed and laboratory parameters improved.
Diagnosis of Invasive Aspergillosis: A Major Challenge
The diagnosis of invasive aspergillosis is a major challenge because it is hard to diagnose and can mimic many other diseases.
This case report outlines that the mediastinal fluid and biopsy tissue culture plays an important role in the diagnosis of aspergillus mediastinitis which reduces the mortality rate. لعبة الحظ الحقيقية In addition, this leads to the use of selective antifungals and antibiotics which prevents antibiotic resistance. bwin sport
Reference: American Journal of case reports