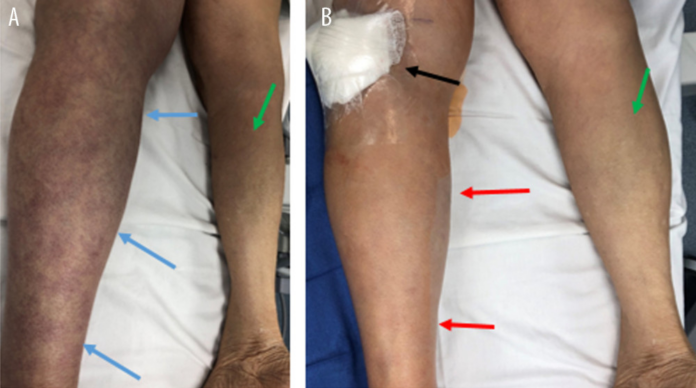 Deep vein thrombosis, a manifestation of May-Thurner syndrome
This article describes the case of a 78-year-old woman diagnosed with May-Thurner syndrome. The patient's medical history was significant for hyperlipidemia, hypertension, and chronic obstructive pulmonary disease (COPD). She presented with a 1-month history of oedema, swelling and chronic lower-leg pain including an inability to move for up to 3 weeks. On examination, there were no signs of trauma, tick bites or fever. The patient also did not have a recent travel history. Her medical history did not reveal any bleeding disorders or previous clots. She also denied smoking. Doctors had prescribed her nifedipine, lisinopril, simvastatin, Ventolin, and umeclidinium.
Investigations and diagnosis
Physical examination showed that the left calf had a mottled appearance and bluish discolouration. These findings are consistent with the diagnosis of phlegmasia cerulea dolens. The left calf was further tender on palpation with a positive Homans sign, a test used to check for deep vein thrombosis (DVT). In addition, all pulses, motor reflexes and sensations were present in the left femoral, popliteal, posterior tibial and dorsalis pedis. Lab results showed leukocytosis and an elevated D-dimer. Whereas creatinine kinase (CK), C reactive protein (CRP), pro-BNP, erythrocyte sedimentation rate (ESR), international normalized ratio (INR), and fibrinogen were all within normal ranges.
Doctors further advised a left-lower extremity Doppler ultrasound which showed acute deep vein thrombosis (DVT), from the femoral vein to the popliteal vein level. The patient was started on a heparin drip and referred to an interventional radiologist (IR) for emergent endovascular percutaneous thrombolysis of extensive DVT. A CT scan was also done which showed an overlying atherosclerotic calcified right common iliac artery. The artery was further seen compressing the origin of the left illiac vein. CT scan of the chest was negative for an acute pulmonary embolism. Based on these findings, the patient was diagnosed with May-Thurner syndrome.
May-Thurner syndrome is rarely considered an aetiology of deep vein thrombosis. Also known as iliac vein compression syndrome, the condition is an anatomical variant in which the right common iliac artery compresses the left common iliac vein against the lumbar spine. This leads to an iliofemoral DVT.
Treatment included stent placement. The patient was continued on a heparin drip for 48 h after the procedure. He was discharged with a referral for a haematology follow-up.