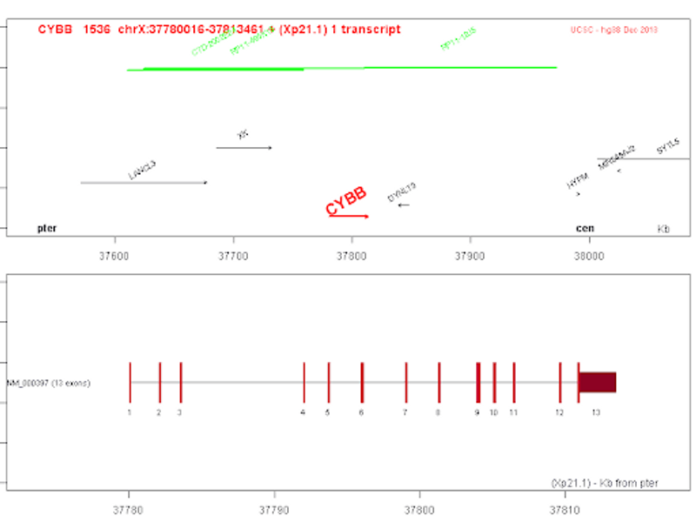 Chronic granulomatous disease is an immunodeficiency disorder that is marked by abnormal phagocytic function.
It affects neutrophils and can cause severe life-threatening infections.
A mutation in the CYBB gene is an X-linked variant of the disease. This article highlights CYBB mutation in chronic granulomatous disease.
This case highlights CYBB mutation and its presentation. A neonate presented for evaluation and genetic testing 2 weeks after birth because of a significant family history. The neonate's DHR oxidative burst measured to be 6%. Whereas he tested positive for pathogenic CYBB variant. The patient was given prophylactic antimicrobial agents including trimethoprim/sulfamethoxazole, voriconazole and interferon gamma-1b. The voriconazole was later changed to itraconazole.
The antifungal prophylactic agent serum level continued to be subtherapeutic, despite weight appropriate dosing. This was likely because of medication noncompliance. Although the patient was referred for early counselling, the parents refused this curative option before 12 months of age. However, the patient's maternal grandmother requested that he had genetic testing done so she could be a bone marrow donor. Results showed that she did not have CYBB mutation which implied that the patient's mother had a de novo pathogenic CYBB mutation.
The patient's medical history was complicated with infections with several bouts of cutaneous lesions they grew Klebsiella pneumonia, MDR Enterobacter asburiae, and Serratia marcescens. He also experienced bacterial conjunctivitis positive for Serratia marcescens and Neisseria sicca/subflava. In addition to recurrent Clostridium difficile colitis. However, his pretransplant course was complicated by ESBL Klebsiella pneumonia, Enterobacter cloacae sepsis, and Klebsiella bacteremia.
The patient was prescribed hydroxyurea and azathioprine. Although, the regime was discontinued because of Candida Parapsilosis bacteremia. At 19 months of age received a T-cell depleted unrelated 9/10 match and was commenced on therapy with cytoreduction therapy with busulfan, melphalan, fludarabine. He obtained 100% donor chimerism with normalised oxidative burst and was discharged with outpatient follow up.
References
Variable Presentation of the CYBB Mutation in One Family, Approach to Management, and a Review of the Literature https://www.ncbi.nlm.nih.gov/pmc/articles/PMC7026706/