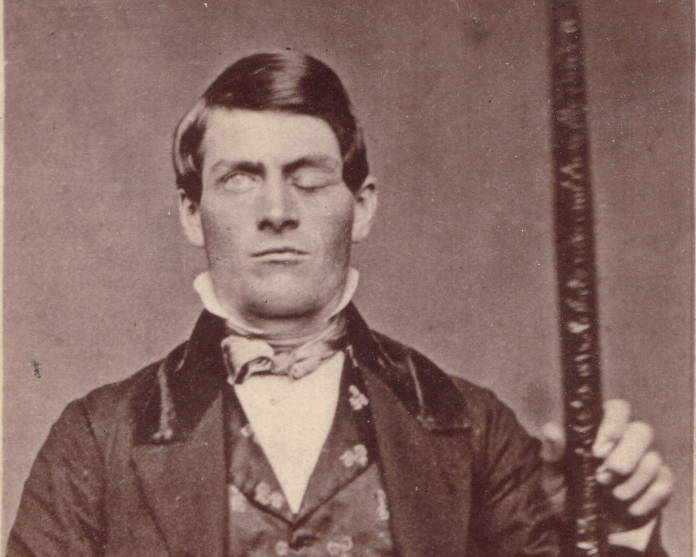 Victim of a traumatic injury, Phineas Gage is one of the most famous anomalies of neuroscience. An iron rod was driven through his entire skull that destroyed most of his frontal lobe. Gage miraculously survived the accident. But, it made him an entirely different man.
On September 3rd, 1848, Gage was working as a foreman of a crew preparing a railroad in Cavendish, Vermont. While using an iron tamping rod to pack the explosives powder into the hole, the powder detonated, causing the rod to hurtle upwards. The iron rod pierced through Gage's right cheek, tore his brain, exited through his skull and landed 80 feet away.
Gage miraculously survived the injury and managed to walk to a nearby cart so he could be taken into the town to see a doctor.
According to Dr. Edward H. Williams, the first physician to respond to the case,
"I first noticed the wound upon the head before I alighted from my carriage, the pulsations of the brain being very distinct. Mr. Gage, during the time I was examining this wound, was relating the manner in which he was injured to the bystanders. I did not believe Mr. Gage's statement at that time but thought he was deceived. Mr. Gage persisted in saying that the bar went through his head… Mr. G. got up and vomited; the effort of vomiting pressed out about half a teacupful of the brain, which fell upon the floor."
The case was later taken over by Dr. John Martyn Harlow, who described it as "literally one gore of blood".
After developing an infection, Gage was in a semi-comatose state for the next two weeks. On October 7th, he took his first step out of bed and his intellectual functioning began to improve by October 11th. According to Harlow, Gage clearly remembered how the accident had happened but had difficulty estimating amounts of money. Gage was seen venturing into the streets within a month.
The Aftermath
Gage returned to his parents home to recover from his injury in the months that followed. When Harlow saw Gage for a follow-up after a year, he noted that he lost vision in his left eye. And was left with obvious scars from his injury. However, he was in good physical health and appeared to have been recovering well.
Evidence suggests that he was actually far more functional than previously reported.
"Previous to his injury, although untrained in the schools, he possessed a well-balanced mind, and was looked upon by those who knew him as a shrewd, smart businessman, very energetic and persistent in executing all his plans of operation. In this regard, his mind was radically changed, so decidedly that his friends and acquaintances said he was no longer Gage," said Harlow.
Although, because of a lack of evidence of the extent of Gage's injuries aside from Harlow's report, it is difficult to know the extent of how much brain damage the accident caused.
Refrences
Harlow, J. M. (1868). Recovery after Severe Injury to the Head. Bulletin of the Massachusetts Medical Society. Reprinted in History of Psychiatry, 4(14), 274-281 (1993) doi:10.1177/0957154X9300401407