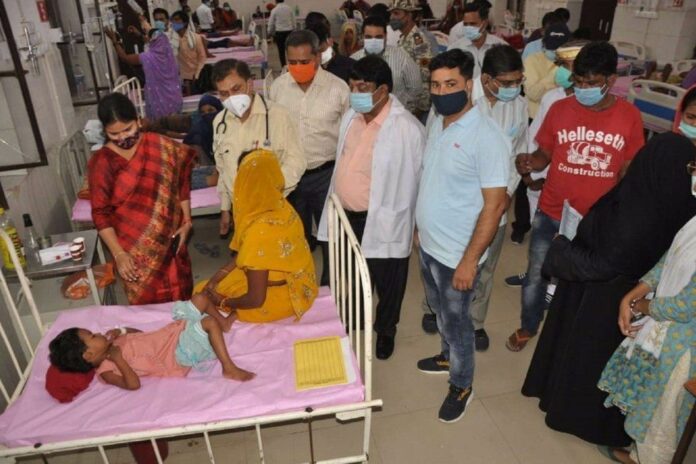 Health officials suspect a severe form of dengue fever is to blame for a mysterious fever outbreak in Northern India.
While talking to BBC News, Dr. Neeta Kulshrestha recounted details of the recent fever outbreak in the Firozabad district of Uttar Pradesh, India. The senior health official reported that his district has recorded over 40 deaths in just the past week. His district is one of many in the state of Uttar Pradesh that has been affected by the mysterious disease.
Over the past few weeks, physicians in the Northern Indian state have been reporting cases of people presenting with a high fever, joint pains, rashes, dehydration, headaches, and nausea. The high fever is leaving patients drenched in sweat. More than 100 cases have occurred across the state and at least 50 people have died. Moreover, the majority of the deaths have occurred in children. Although the country is currently battling a deadly COVID outbreak, none of the affected patients has tested positive for coronavirus.
It is unclear as to what could be causing the mysterious outbreak. However, some health experts suspect the outbreak is caused by a severe form of dengue fever. They believe the patients' symptoms and the fact that some of them had low platelet levels point to the mosquito-borne disease.
Severe Dengue or Something Else?
According to the World Health Organization (WHO), Asia accounts for more than 70% of the global dengue cases. The tropical disease infects around 390 million people per year. Although many infections present as a mild flu-like illness, some can go on to develop a severe form of dengue. This severe infection often results in complications such as severe bleeding and organ impairment. Moreover, severe dengue is a leading cause of hospitalizations and deaths in children and adults.
Another possibility is the mosquito-borne Japanese encephalitis that has claimed over 6,500 lives in Uttar Pradesh since 1978. 1 in 250 infections of the viral disease results in a severe illness. Symptoms of severe disease include neck stiffness, high fever, headache, seizures, coma, and ultimately death. Epidemics usually occur in tropical and sub-tropical areas after the rainy season. 30% of patients don't survive the disease.
Both dengue and Japanese encephalitis don't have a cure and treatment is mostly supportive. Therefore, governments rely on mosquito-eradication techniques to control outbreaks in their regions.
However, it is still not clear whether an epidemic of dengue or Japanese encephalitis is to blame for the mysterious fever outbreak in India.
Source: BBC News