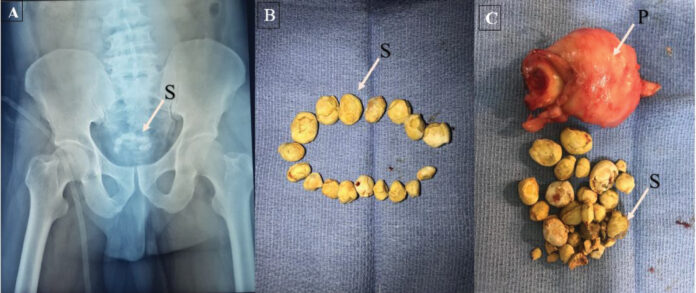 A 73-year-old patient presents with non-specific LUTS. Radiography reveals a necklace of stones in the bladder
A 73-year-old presented with signs and symptoms of the lower urinary tract. The doctors were treating the patient with an alpha-blocker. Thereafter, the patient developed urinary retention; therefore, the patient became a carrier of vesicle catheter. Ultrasonography showed an enlarged prostate with a volume of 60g. the US also revealed intravesicular protrusion of the enlarged prostate gland. Moreover, the ultrasound identified the presence of multiple stones in the bladder.
Plain radiography of the kidney, ureter, and bladder showed an intravesicular necklace of stones. The rest of the examination and the imaging results were normal.
Figure A is of Xray KUB showing the intravesicular necklace of calculi, while figure B shows the extraction of 17 stones that formed the necklace. Figure C shows the excised prostate adenoma and extracted calculi.
The patient underwent enucleation of the prostatic adenoma. Moreover, the surgeons also removed the stones from his bladder.
Western countries have a lower incidence rate of bladder stones. However, owing to the dietary choices, the developing countries have a relatively higher load of kidney and bladder stones.
BPH and Stones:
However, irrespective of the countries, men with prostatic enlargement (BPH) and bladder stones have a higher risk of kidney lithiasis, gout, lower urinary pH, lower urinary magnesium levels when compared with men with BPH but without bladder calculi. The presence of urinary tract infection and a prostatic median lobe (BPH) protrusion, as seen in this patient, are the clinical signs most associated with the development of bladder calculi. However,  patients with intravesicular stones may have no symptoms at all or non-specific lower urinary tract symptoms may be present. Whereas others may have serious symptoms including hematuria. Careful investigations and management is the key to management.
Reference:
Mohammed M, Dieudonné ZOJ, Soufiane E, Jaafar M, Mohammed B, et al. (2021) Intravesical Stone Necklace. Clin Med Img Lib 7:175. doi.org/10.23937/2474-3682/1510175