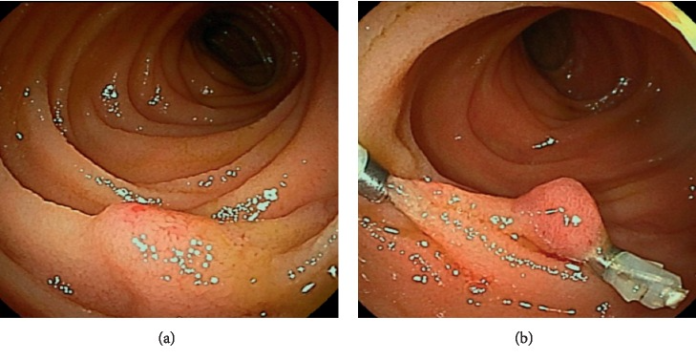 Case of gastrointestinal bleeding in 62-year-old female, the cause for which was unidentified for 5 years.
This article describes the case of a 62-year-old female with multiple arteriovenous malformations of the small bowel. The patient presented to the hospital with gastrointestinal bleeding. Doctors advised an esophagogastroduodenoscopy (EGD) and colonoscopy which did not reveal any significant findings. There was no evident source of bleeding on the computed tomography (CT) with delayed phase imaging. Video capsule endoscopy was also carried out for small bowel evaluation, which also did not reveal the source of bleeding, except for blood clots in the jejunem.
The patient was further advised antegrade DBE for evaluation. However, no active bleeding and sources of bleeding were observed. However, she had recurrent bloody stool about once a year over a time period of 5 years. Although all small bowel evaluations were repeated, the cause of bleeding was not identified. In addition, she subsequently presented with intermittent bloody stools and a fall in hemoglobin. VCE was repeated which was remarkable of localised blood clots in the jejunum. The antegrade DBE showed a pulsatile uplift accompanied by a small red patch on the top with no sign of active bleeding 30 cm from the anal side from the ligament Treitiz in the jejunum.
Arteriovenous malformations
The findings were consistent with the diagnosis of arteriovenous malformations, which are an important vascular cause of bleeding in the small bowel. Although, it is often difficult to diagnose. A selected angiography with indocyanine green (ICG) injection was performed to identify the location of the lesions. This allowed a clear observation of the region. Treatment included small-bowel resection with minimal surgical margin.
The patient was doing well at her 2-year follow-up and denied any signs of small bowel bleeding.
References
Management of Multiple Arteriovenous Malformations of the Small Bowel https://www.ncbi.nlm.nih.gov/pmc/articles/PMC6927056/