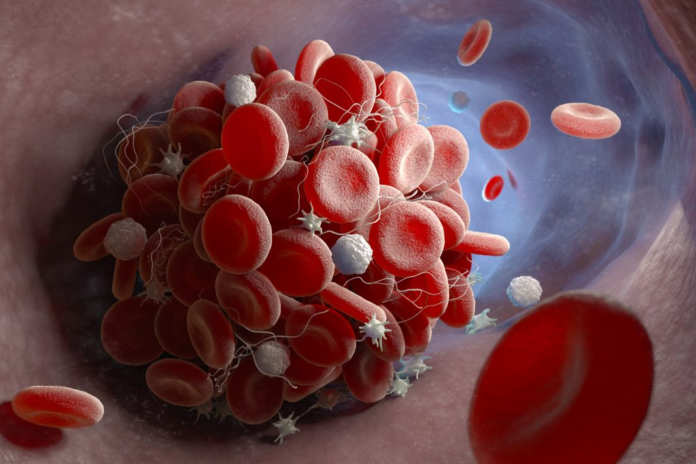 Thromboprophylaxis in high risk COVID-19 patient
COVID-19, an infectious disease caused by the novel coronavirus presents as an acute respiratory illness. However, the virus also affects multiple organ systems. One such presentation is systemic coagulopathy of the arterial and venous systems. In a similar case, a 29-year-old woman with Hodgkin's lymphoma was diagnosed with COVID-19 just before her first round of chemotherapy.
Two months after the patient tested negative for COVID-19 she presented with syncopal episode and headaches.
She was currently under standard care treatment for stage II unfavourable disease with ABVD (adriamycin/bleomycin/vinblastine/dacarbazine). The woman was recently diagnosed with classical Hodgkin's lymphoma and was on Cycle 2 day 12 at presentation.
Hodgkin's lymphoma is a type of lymphoma in which cancer originated from lymphocytes, a specific type of white blood cells. Symptoms of illness include fever, night sweats and weight loss. The lymph nodes are usually non-painful and enlarged in the neck, under the arm or groin.
On physical examination, a significant increase in circumference was notable with truncal obesity because of body habitus. Doctors further inserted a right sided port for chemotherapy and ruled out pulmonary embolism. Further investigations included a CT scan of the central nervous system including the head without contrast because of renal injury. An MRI was also performed which did not show any significant findings. Ultrasound of the neck showed an increase in neck swelling, however, in the absence of carotid stenosis.
Incidental findings showed thrombosis of bilateral internal jugular veins.
Doctors started the patient on anticoagulation with heparin per venous thrombosis (VTE) protocol and monitored patient's Factor Xa level. The patient's brain MRI was repeated with contrast the next day, because of persistent headaches. The MRI showed acute infarction in the left frontal cortex and small punctuate infarcts of the right caudate nucleus left lentiform nucleus and left posterior parietal lobe. The findings were suggestive of an embolic phenomenon. A CT angiograph was performed to confirm the MRI findings. After 2 days an MR venography was also performed which showed no significant findings either.
Transesophageal echocardiogram was remarkable of a large arterial clot. However, a paradoxical embolus was ruled out because the findings did not demonstrate a patent foramen ovale. Inflammatory markers were also seen to be elevated. The patient's medical history revealed that she tested positive for COVID-19 2 months before presentation. She experienced myalgia, arthralgia, loss of appetite and fatigue during the infection. However, had no signs of respiratory distress. She did not need to be put on any supplemental oxygen or require hospitalisation. COVID-19 testing was repeated after 3 weeks, results of which came back negative.
This case highlights the risk of thromboprophylaxis in high risk COVID patients.
References
Delayed manifestation of extensive COVID-19-associated coagulopathy in high-risk patient https://casereports.bmj.com/content/14/5/e242921