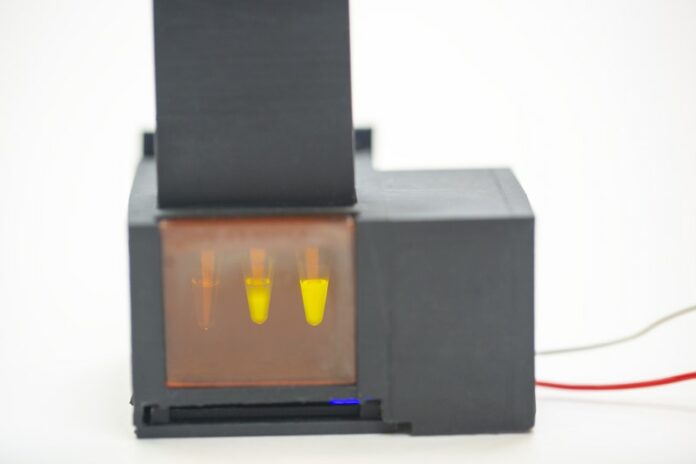 The COVID-19 pandemic has highlighted many issues in healthcare, particularly the disparity between high and low-income countries. From PPE to PCR testing kits, low and middle-income countries suffered a massive shortage that allowed the virus to spread unrestrained.

Since then, many efforts have been made to introduce other types of testing to expedite diagnosis. This way the world does not have to rely solely on PCR testing kits.

One such innovation is a simple testing device that can recognize the presence of the COVID-19 virus in saliva. This COVID-19 spit test is a joint effort by the Wyss Institute for Biologically Inspired Engineering at Harvard University, the Massachusetts Institute of Technology (MIT), and other hospitals in Boston.

As it employs the use of the Wyss institute's CRISPR system called SHERLOCK (specific high sensitivity enzymatic reporter unlocking), the researchers named their device the Minimally Invasive SHERLOCK (miSHERLOCK).

How does the miSHERLOCK work?

A person spits into a sample preparation chamber. Their saliva is heated and treated with chemicals to remove unwanted enzymes that interfere with the virus' RNA. Filters in the device extract viral RNA from the sample in 3 to 6 minutes. After this time, they are transferred to a second chamber in the kit, the reaction chamber, which contains SHERLOCK pellets.

These pellets contain enzymes that cut the SARS-COV-2 RNA at a point in its genome called the Nucleoprotein. Once it is cut, the sample in the miSHERLOCK device turns fluorescent, confirming the presence of the COVID-19 virus. The whole process only takes an hour, and the user doesn't need any medical knowledge to execute it.

Since this nucleoprotein is present across the different COVID-19 variants, the test is useful in diagnosing all of them. The scientists also created SHERLOCK assays that bind to specific SPIKE proteins in the Alpha, Beta, and Gamma variants so patients know exactly what variant they have.
"A device for low-resource areas"

The scientists aimed to make the miSHERLOCK device as cost-friendly as possible. The device's design is open-source on the internet and it can be 3D printed anywhere in the world. Currently, one kit costs $15, but they believe that mass production can bring the cost down to only $3. They can also create new variant assays within 2 weeks to keep up with the newer mutations.

They also wanted miSHERLOCK to be user-friendly, so the test can be carried out by anyone. To facilitate this, they designed a mobile application that helps recognize the fluorescent signals the miSHERLOCK produces, so that there is no doubt in understanding the diagnosis.

Of course, this is not the first time the SHERLOCK system has been used to diagnose COVID-19. Earlier, the Wyss Institute also reported the development of wearable masks that detect the virus using SHERLOCK.
Source: Wyss Institute
https://wyss.harvard.edu/news/a-test-that-detects-covid-19-variants-in-your-spit/