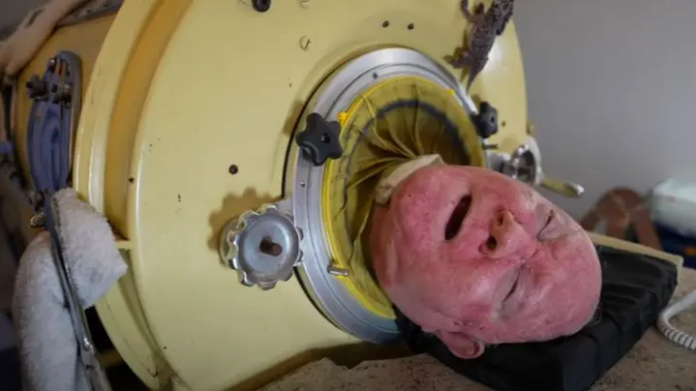 Polio has been widely wiped out in the western society and is now only found in countries Afghanistan, Pakistan and Nigeria.
The US was claimed to be disease free in 1979. But, the outbreak of 1950s affected several people, including Paul.
It forced those paralysed to use an iron lung to breathe. لعبة الحظ الحقيقية
Paul Alexander, also known as "the man in the iron lung" was paralysed from neck down in 1952. And since then hasn't been able to breathe on his own. Paul was diagnosed with polio at the age of 6. He couldn't move or breathe and was pronounced as dead before a tracheostomy was performed on him. The procedure involved opening his chest and inserting a chest tube to help in breathe.
Doctors further placed him into an iron lung and he fought for his life for the next 18 months. As shown in a documentary explaining his case, people disliked him and weren't very comfortable around him because of the iron lung. And the only thing he could do about it was continue to live his life. He did "the same thing everybody else does". "I woke up, brushed my teeth, washed my face, shaved, had some breakfast", he said.
Polio doesn't seem like a big deal now, however, gravely affected Paul's life.
Nowadays, polio can easily be prevented by a vaccine. Although a child requires multiple jabs of the vaccine, they are fully protected after completing the course of vaccines. ربح المال من لعب الالعاب Access to vaccines wasn't as convenient back in the day. كازنو Being diagnosed with polio meant having to live with an iron lung for the rest of your life. In a similar scenario, Paul was forced to use an unwieldy machine to help him breathe. Even thought the machines are now obsolete, there are still a handful of polio survivors who have been using the machine for decades. Paul is one of such cases who shared his experience of living with a machine.
"There are only two or three of us left," said Paul, who has spent the past 60 years using an iron lung. "I've tried all the ventilators available and this one is the best. It feels like a more natural way of breathing," he further added.
Companies have now also stopped making parts of the machinery, making it difficult to maintain.
Iron lung machines are pressured cylinder that help people breathe.
Iron lung machines are pressured cylinders that create a vacuum and draw oxygen in the lungs to help people breathe. Back in the day the iron lungs were quite common and helped people with permanent lung damage help survive.
Paul was denied admission in college because he was too crippled and wasn't vaccinated for polio. However, he did not lose hope and for the next two years persuaded the college he wanted to get into. He finally got accepted on two conditions. First, he was to get vaccinated for polio and second a fraternity would be responsible for him.
Despite being dependant on a machine, Paul went to law school and worked as a lawyer while living in a dorm room with his iron lung.
References
Meet The Polio Survivors Locked Inside Iron Lungs For Decades https://www.ladbible.com/news/interesting-news-meet-the-polio-survivors-locked-inside-iron-lungs-for-decades-20171123