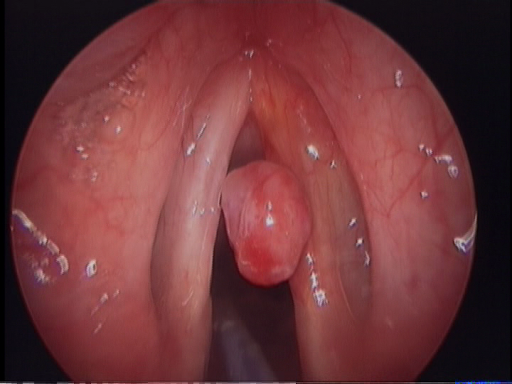 A laryngeal polyp is a common benign laryngeal lesion caused by vocal abuse.
Gastroesophageal reflux disease is a common condition that presents with a broad spectrum of symptoms, including extraesophageal symptoms, for example, laryngeal polyps.
This article describes a case of laryngeal polyp associated with reflux disease in a 24-year-old woman.
A 24-year-old Middle Eastern woman presented to the ENT clinic with a 2-month history of dysphonia. She had no history of any intubations, trauma or voice abuse. بلاك جاك Examination showed a polypoid lesion/laryngeal polyp on the middle one-third region of the left vocal cord. The lesion measured 4 x 3 cm in diameter, approximately.
The ENT doctor referred the patient to the gastroenterology clinic to undergo endoscopy. The doctor diagnosed her with grade C GERD based on the Los Angeles classification system of GERD. LA grade C reflux disease includes one or more mucosal breaks. It involves less than 75% of the circumference between the tops of two or more mucosal folds. On return to the ENT clinic, the patient was referred for removal of the laryngeal polyp. The polyp was excised completely under general anaesthesia by suspension direct laryngoscopy. There was no residual tissue left behind. Similarly, the excised polyp was fixed in 10% formalin and was embedded in paraffin.
Doctors diagnosed the patient with laryngeal polyp associated with reflux disease
Gross pathological examination of the specimen showed a polypoid mass measuring 4 x 3 cm with a smooth outer surface and thickened, nonkeratinized, stratified, squamous epithelial covering. In addition, it also showed a disruption of the superficial layers of epithelium, which caused small blisters with intraepidermal microabscesses and underlying areas of haemorrhage. Histopathological analysis showed focal ulceration with underlying granulation tissue-like reaction. The underlying stroma further showed numerous proliferated blood vessels with dilation, congestion and thrombi. كيف تفوز في روليت IHC staining was negative for p53, ruling out epithelial dysplasia.
The aetiology of laryngeal polyps is generally associated with vocal abuse. مواقع روليت However, in this case, the cause was concluded to be gastroesophageal reflux disease.
References
Laryngeal polyp associated with reflux disease: a case report https://jmedicalcasereports.biomedcentral.com/articles/10.1186/s13256-019-2324-0