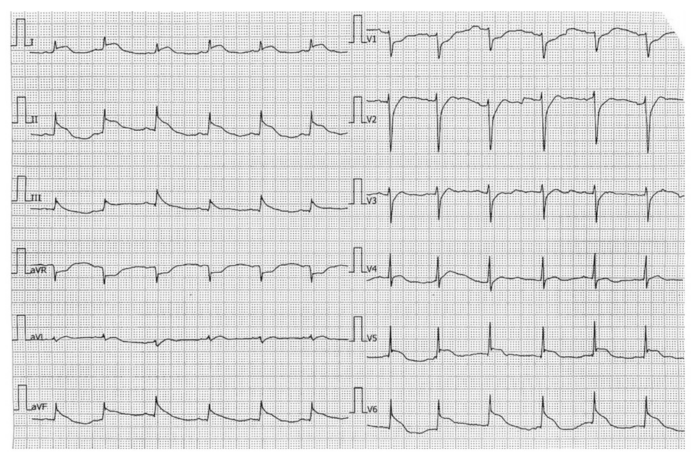 Kounis Syndrome
In this case, a 38-year-old guy with diarrhoea was checked into a local hospital. Three days prior to admission, he experienced stomach pain, dizziness, and diarrhoea with blood stains after eating raw foods. After receiving an infectious diarrhoea diagnosis, he was hospitalised. He has never before experienced an adverse reaction to any medications, foods, or environmental factors. He experienced chest pain, dyspnea, and hypotension the following morning at the hospital immediately after receiving the paracetamol infusion. Urticaria and angioedema were not present, according to the records. Additionally, paracetamol was administered to him for the first time since his admittance at this point. Other examinations were uneventful.
In addition, figure 1 shows the ECG (recorded in the rural hospital), which showed no q waves but anterolateral and posterior ST elevation and depressed ST segments in leads aVR, V1, V2, V3, and V4R. An elevated level of hs-Troponin T of 1580 ng/L (reference range: 24.9 ng/L) was found in the blood sample. At the time of admission, neither the baseline ECG nor troponin concentration was recorded. Following the diagnosis of acute myocardial infarction, the patient was sent to a nearby secondary hospital.
Six hours after the angina attack, the patient underwent a second ECG, which showed sinus rhythm, no ST-T changes, and no q waves at any of the leads. Blood levels of hs-Troponin T and D-dimer were 2716 ng/L (reference range: 14.0 ng/L) and 5.21 mcg/mL (reference range: 0.5 mcg/mL), respectively, at that time. He said that he experienced no chest pain, no breathing difficulties, and normal vital signs. Once Kounis syndrome was identified, he was sent to another cardiology facility with a catheterization lab. He was admitted to the hospital for a planned coronary angiography and came to the hospital more than 12 hours after the angina episode.
Source: American Journal of Case Reports