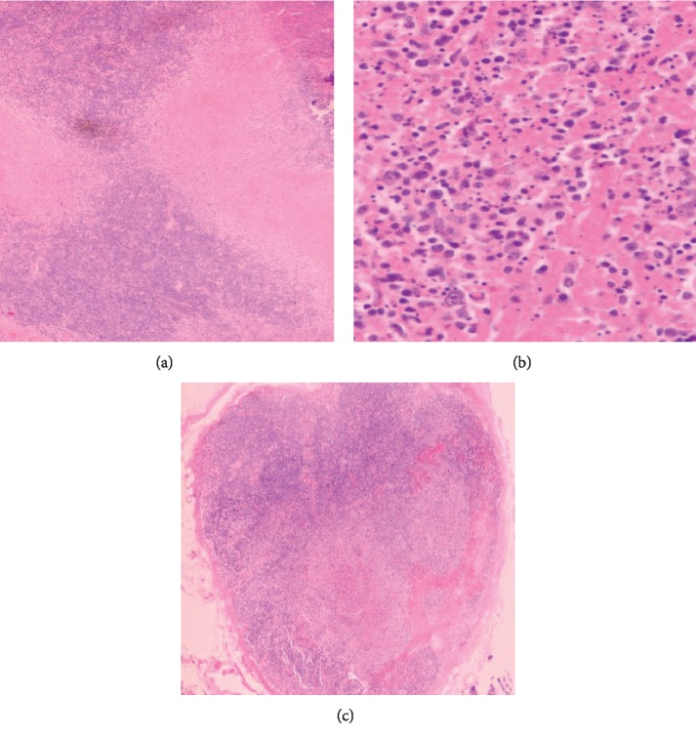 Case of Kikuchi-Fujimoto Disease in a 29-year-old black African woman.
This cases describes Kikuchi-Fujimoto Disease in a 29-year-old black African woman. The woman presented to the emergency with 5-day symptoms of headache and fever. Brain imaging did not show any significant findings. Lumbar puncture, however, showed a raised white cell count (WBC), 95% lymphocytosis and borderline high CSF adenine deaminase levels. The patient was negative for Myobacterium tuberculosis (TB), CSF Ziehl–Neelsen stain and GeneXpert.
Oral paracetamol helped in resolving her headache and fever. The test results pointed to aseptic meningitis. For confirming the diagnosis, the slides were sent for a second opinion to the USA. In addition, the cervical biopsy showed marked architectural effacement with areas of necrosis that contained abundant apoptotic debris. Numerous histiocytes, small lymphocytes, occasional plasma cells and immunoblasts were present in the adjacent viable areas. Although, there were no hematoxylin bodies.
Kikuchi-Fujimoto Disease with Hashimoto's thyroiditis and SLE
The findings were consistent with histiocytic necrotizing lymphadenitis, secondary to Kikuchi-Fujimoto disease or systemic lupus erythematosus. She was, however, continued on the treatment. Given that she screened negative for SLE and was responding well to TB therapy.
Although, three months into the treatment her test results showed an elevated thyroid stimulating hormone (TSH) and low thyroxine and tyrosine levels. In addition, she was positive for antithyroid peroxidase and thyroglobulin antibodies. The findings were consistent with the diagnosis of Hashimoto's thyroiditis.
Doctors discharged the patient after 12 months of treatment.
However, 5 months later her condition relapsed and she presented to the infectious disease clinic. Her medical history revealed that she had travelled to a malaria-endemic region 2 weeks prior. In addition, she self-medicated with a complete course of antimalarial medication but showed no resolution of symptoms. On examination her temperature was 38°C. All other vital signs were normal.
Moreover, physical examination revealed a large >1 cm bilateral nontender nonmatted upper cervical lymphadenopathy with no other signs of meningism.
The repeat autoimmune screen revealed ANA positive and a speckled pattern. Similarly, she was also positive for ENA anti-SS-A/RO-52. There were no other significant findings other than persistent leucopenia, thrombocytopenia and anemia. The findings showed that she had Kikuchi-Fujimoto Disease. With subsequent diagnosis of Hashimoto's thyroiditis and systemic lupus erythematosus.
She remains on follow-up at the rheumatology clinic.
References
Case Report of Kikuchi-Fujimoto Disease from Sub-Saharan Africa: An Important Mimic of Tuberculous Lymphadenitis https://www.ncbi.nlm.nih.gov/pmc/articles/PMC6969645/