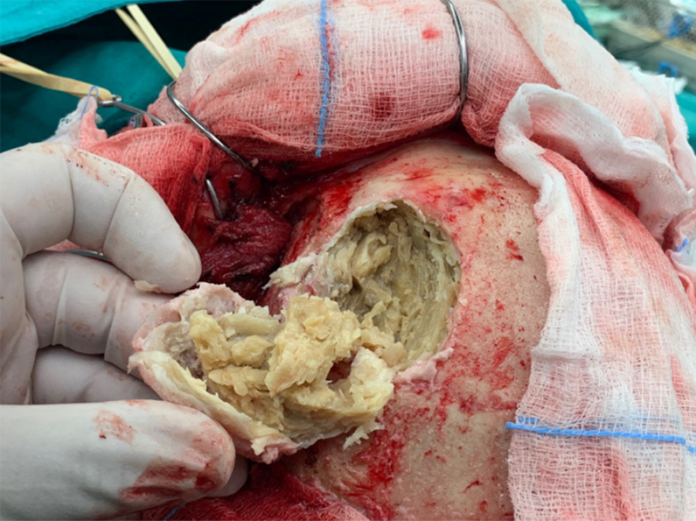 Case study: epidermoid cyst
Frontal epidermoid cyst is either a sequelae of head trauma or encased remnants of the ectoderm in the third week of gestation. These cysts comprise of 1% of all intracranial tumours. In some cases the lesions may be acquired, although are mostly because of penetrating skull trauma. The lesions are benign. However, exert mass effect on the adjacent anatomical structures. This article describes the case of a 58-year-old patient with left-sided exophthalmos.
Radiological examination was significant for an oval cystic lesion, measuring 7x5x5.5 cm. The lesion was seen to be arising from the left frontal bone, through the ipsilateral orbital roof. Doctors advised a total extirpation/surgical removal of the lesion via a frontal craniectomy. A cranioplasty was also done using a Porex graft. On histopathological examination, the lamellae of the lesion resembled keratin tissue. Other findings were consistent with the diagnosis of an epidermoid cyst. The patient had an uneventful recovery with no neurological deficits. Postoperative CT scan showed no residual effects.
The doctors initially resected the lesion via curettage in addition to a left frontal craniotomy around the lesion. There were signs of thinning around the orbital roof because of the tumour. However, the periorbital tissue was not infiltrated. Macroscopic examination revealed pearl-hued lamellae, resembling keratin tissue. This led to the suspicion of an epidermoid cyst. The tumour was completely excised, including the capsule attached to the dura. There were no signs of hemorrhaging noted during the excision.
Histopathological findings
Histopathology revealed soft white keratin contents. Microscopic examination showed numerous keratin flakes and osseous tissue and osseous tissue. In addition, the granular layer of the epithelium was also recognisable. These findings were indicative of the diagnosis of epidermoid (epidermal) cyst.
The wound healed by primary intention and no neurological deficits were seen during the post-operative period. Post-operative CT further confirmed total resection of the epidermoid cyst.
Source: American Journal of Case Reports