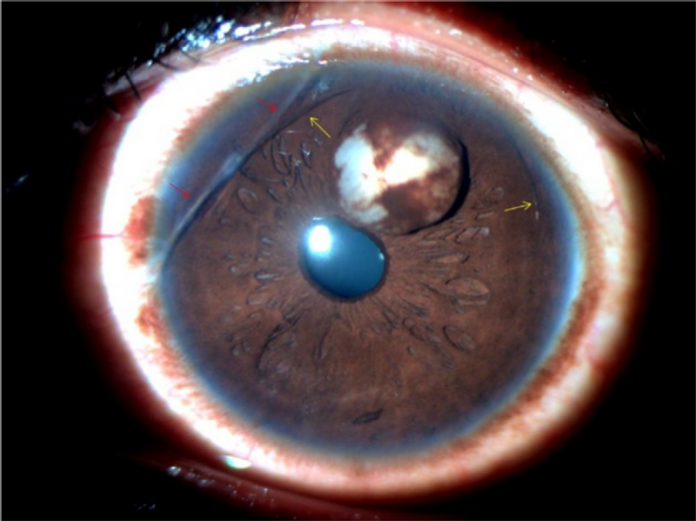 Male patient presented with intraocular eyelashes and iris cyst following a penetrating eye injury and loss of vision in one eye.
A 24-year-old male patient presented with intraocular eyelashes and iris cyst following a penetrating eye injury. On examination, his visual acuity was 6/6 in the right eye, whereas, 6/18 in the left eye. The patient further revealed that he noticed a decrease in vision in his left eye for last two weeks. in addition, the intraocular pressure in both eyes was 12 mm Hg.
Slit lamp examination showed an 8 mm linear peripheral corneal opacity in the left eye, nasally. The anterior chamber showed two cuvillinear foreign bodies present superiorly. The bodies resembled the eyelashes and and an iris cyst, measuring 4 mm x 4 mm.
The anterior chamber was quiet and there was no adhesion of the iris to the cornea. Gonioscopy showed no foreign bodies with normal angle structures. The pupil although reacting normally to light appeared slightly oval. Dilated fundus examination revealed no abnormalities and the lens was clear. Furthermore, the right eye also appeared to be normal.
The patient's ocular history revealed that 2 years ago, his left eye was traumatised by a metallic wire while he was working in a construction site. He did not seek any medical care at that time and had no history of past ocular surgeries.
Treatment plan
The eyelashes and iris cyst were surgically removed. Whereas, the anterior chamber was entered at the superotemporal limbus and was introduced with viscoelastic substance. The lashes were removed and a sectoral iridectomy was done to excise the cyst in toto. There were no signs of collateral damage to the other ocular structures. Transient anterior segment inflammation and microscopic hyphema were present postoperatively which sibsided with a combination of topical atibiotic-steroid.
After treatment, the visual acuity in the right eye improved 6/6. The patient did not complain of any complications at 3-month follow-up.
References
Intraocular eyelashes and iris cyst in anterior chamber following penetrating eye injury: a case report https://www.ncbi.nlm.nih.gov/pmc/articles/PMC5367761/