Isolated cerebral hydatid cyst is a rare disease. Although hydatid disease primarily involves the liver and lung, it involves the brain in 1-2% of the cases.
The intracranial hydatid cyst can be primary or secondary. The former is when the larva infests the brain directly without involving any other organ. Below is a case of a child with this rare disease.
An 8-year-old, countryside dweller male patient presented to the emergency department with complaints of vomiting after head trauma.
Examination revealed normal neurological examination. Neither did it reveal alteration in any other body function. His doctors performed a computed tomography scan of the head to evaluate the head trauma. CT scan revealed no intracranial hemorrhage; however, it revealed a cystic lesion in the right parieto-occipital region. The cystic lesion was 5 cm in diameter.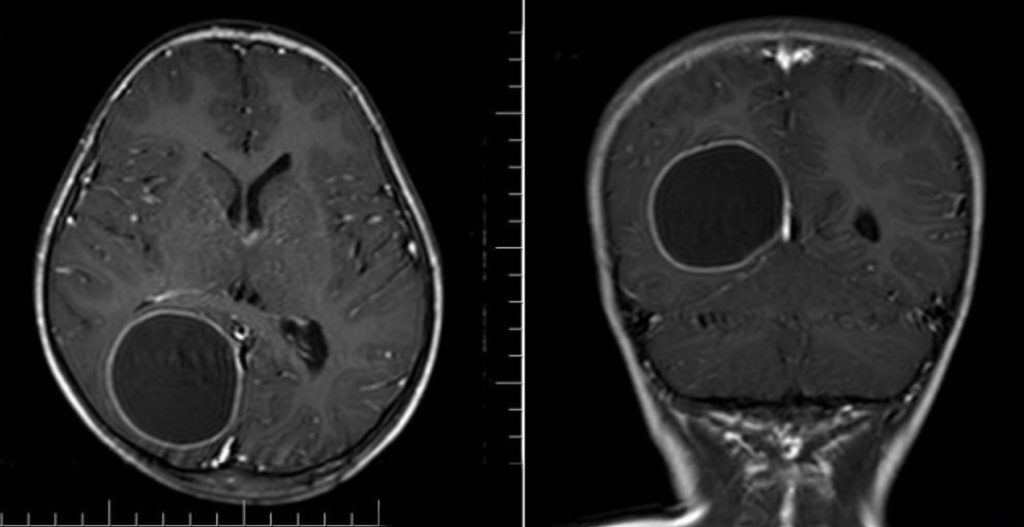 Additionally, cranial magnetic resonance imaging revealed a large cystic lesion with peripheral enhancement. Indirect hemagglutination was negative.
The doctors decided to excise the lesion surgically. Hence, they administered 15 mg/kg/d albendazole preoperatively. His surgeons performed a right parieto‑occipital craniotomy, and they excised the lesion.
 The postoperative course remained uneventful, also, the patient made a full recovery.
In the pathological examination, the fibrous wall was excised, and a smooth semi-transparent hydatid cyst was seen. The patient was continued on albendazole.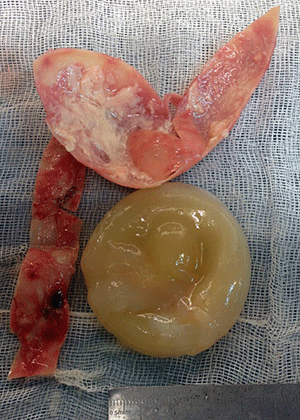 At the 2-month follow-up, finally, the cranial MRI revealed no pathological findings.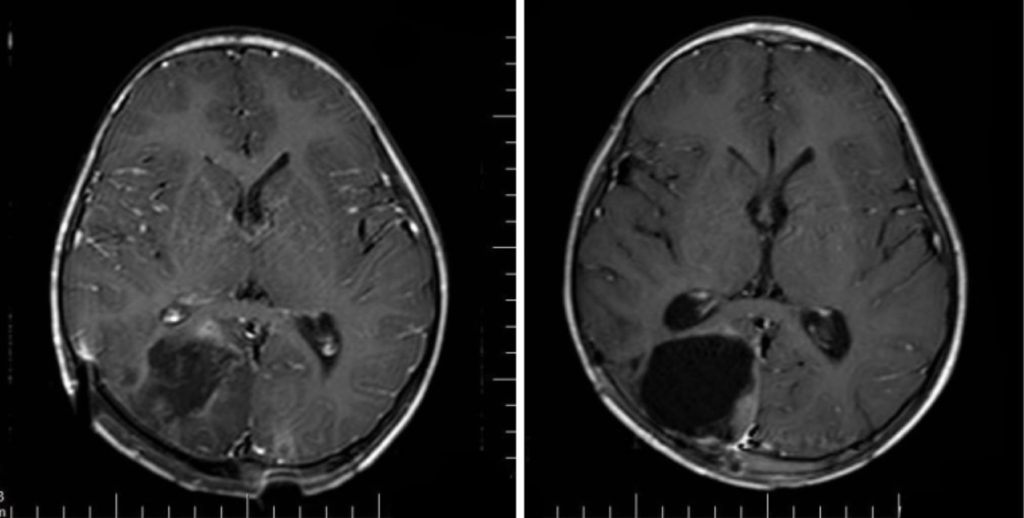 Brain Hydatid Cyst:
Clinical manifestations of cranial hydatid cyst include headaches, vomiting, increased intracranial pressure, focal neurological deficits, papilledema, altered mental status, and visual disturbances. Although rare, seizures can also occur. Cerebral hydatid cyst gives characteristic findings on computed tomography scan and magnetic resonance imaging, therefore, these imaging modalities are crucial to reach a diagnosis. Surgery is the treatment of choice with albendazole treatment. However, surgical excision needs precision to avoid intraoperative rupture as it can elicit an anaphylactic reaction. Moreover, it is equally imperative to excise completely to avoid recurrence.
References:
CANAZ G, KILINC B, TOPYALIN N, AKMAN Z, Durmusalioglu I, et al. (2018) Incidentally Diagnosed Asymptomatic Primary Hydatid Cyst of Brain. Clin Med Img Lib 4:084. doi.org/10.23937/2474-3682/1510084

Tuzun Y, Kadioglu HH, Izci Y, Suma S, also Keles M, & Aydin IH: The clinical, radiological, and surgical aspects of cerebral hydatid cysts in children. Pediatr Neurosurg 40:155–160, 2004