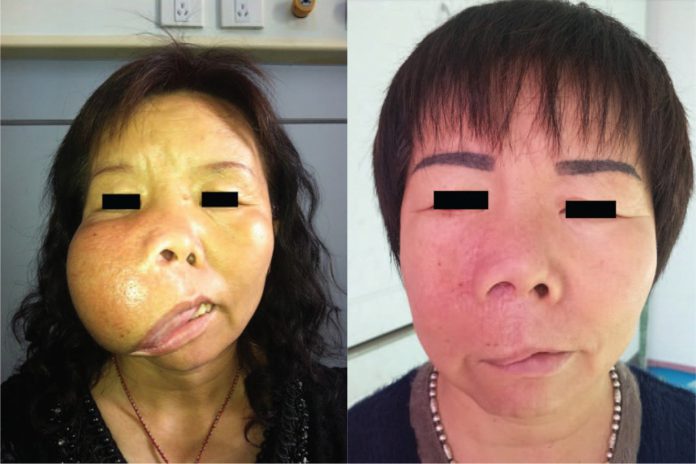 Surgical correction of residual facial deformity following excision of giant maxillary ossifying fibroma.
A female patient presented with a chief complain of a giant swelling on the right side of her face. The swelling had gradually increased in size over a time span of 30 years. The patient was diagnosed with giant maxillary ossifying fibroma. She did not complain of any related pain, paresthesia or tenderness.
Examination showed a swelling in the right maxillary region that measured 15 x 15 x 10 cm with normal skin appearance. An apparent drooping of the upper lip was also evident, in addition to a widened philtrum, distorted appearance of nose and external nares, exposed right palate, disappearance of the right alar groove and partially exposed teeth on the right side. There were no signs of temperature or colour change and tenderness. However, the surface of the skin appeared thickened.
For further evaluation, a computed tomography and a 3-dimensional reconstruction was performed which showed a 13 x 13 x 9 cm expansile lesion with defined anterior margin and rough surface arising from the right maxilla. The lesion was eroding the right inferior orbital wall superiorly and displaced the maxillary sinus postsuperiorly, giving a shrunken appearance. Medially, the lesion involved the right os nasal and distally, the right alveolar bone. Similarly, the lesion appeared as a solitary radiolucent cyst-like mass with irregular radiodensity. However, there was no clear demarcation between the cortex and medulla.
Treatment plan
Reconstruction was necessary after complete resection because of the size of the maxillary tumour to maintain function of adjacent organs invaded by the tumour. Although, the patient did not consent to bone or metal grafting and was treated with conservative excision after tumour exposure using Weber-Fergusson approach.
The surgeons removed as much tumour tissue as possible and excised the excess skin and oral mucosa, maintaining functional bone tissue. Histopathological analysis of the biopsied lesion showed trabecular bone surrounded by osteoblasts scattered within proliferative fibrous tissue. The trabecular bone was thickened and arranged in parallel sheets with calcification.
The findings were consistent with the diagnosis of ossifying fibroma.
In November 2015, two years after the surgical removal of the tumour, the patient complained of scarring and drooping of the upper lip on the right side. However, there were no visible signs of tumour swelling. Therefore, a second surgery was performed to improve her facial appearance; using the same approach of excising scar tissue and partial residual tumour. In addition, correcting the right upper lip drooping.
In February 2017, the patient underwent corrective surgery for the vagus deformity in her right lower eyelid with no obvious increase in volume of the tumour. Moreover, in January 2018, a third surgery was performed. It drastically improved the ectropion deformity in the right lower eyelid with no obvious tumour swelling.
The patient was regularly followed for tumour recurrence and complications.
References
Surgical correction of residual facial deformity following conservative excision of a giant maxillary ossifying fibroma https://www.ncbi.nlm.nih.gov/pmc/articles/PMC6393081/