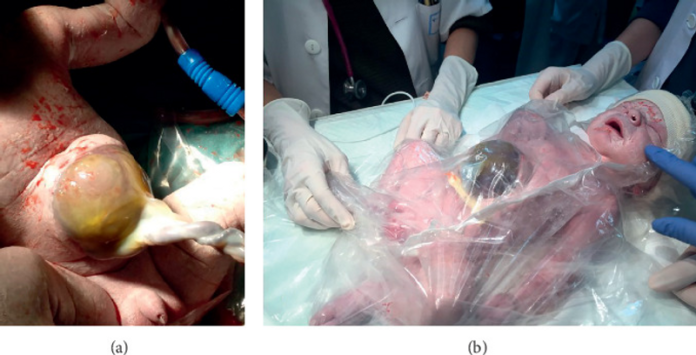 Perinatal management of giant isolated omphalocele diagnosed at 12th week of gestation.
A 34-year-old pregnant woman with single gestation was diagnosed with a giant isolated omphalocele at 12th week. Examination showed normal nuchal translucency with no other malformations. The omphalocele enclosed the intestinal and hepatic content.
A genetic study was performed which included the karyotype, 60K Array-CGH, and methylation-sensitive multiplex ligation probe analysis for analysing the presence of epigenetic and genetic changes related to BeckwithWiedemann Syndrome (BWS). All of the tests were negative. The parents were counselled and informed about the results. In addition to the impossibility of completely ruling out BWS, despite the genetic study being negative. The disorder is caused because of epigenetic defects and in up to 20% of the cases the diagnosis is clinical and confirmed postnatal. The patient decided to continue with the gestation after counselling.
Diagnosis and treatment
There were no associated malformations in the 20th week anomaly except for a slight upward and leftward displacement of the heart because of elevation of the diaphragm. However, cardiac function and ductal venous flow were normal throughout gestation. In addition, the heart was structurally normal. The omphalocele content was seen to be hepatic at the 21st week. To rule out the early onset of fetal growth restriction and other disorders, the patient was advised ultrasound controls every 4 weeks. The estimated bag size was 51 x 56 mm at the 37th week. The patient had to be admitted because of mild contractions at 38.3 weeks. Moreover, a caeserean section was performed at 38.4 weeks.
The newborn weighed 3540 g. A thermal bag that covered the whole body of the neonate was placed immediately after birth for maintaining body heat. In addition, to reduce the risk of infection. He was admitted to the neonatal ward for management and surgical preparation within the first hour. And was started on parenteral nutrition. The neonate underwent omphalocele surgery at 48 hours of age. The newborn's recovery period was unremarkable. However, at 3 months of age, he was diagnosed with two inguinal hernias that were repaired surgically. The baby had to undergo a prophylactic appendectomy because of the abnormal location of the hernias.
Currently the baby is a year old, alive and well.
References
Giant Isolated Omphalocele: Role of Prenatal Diagnosis in Prognostic Asessment and Perinatal Management https://www.ncbi.nlm.nih.gov/pmc/articles/PMC7303742/