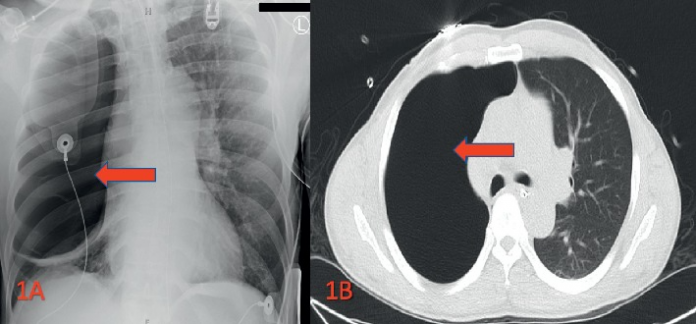 50-year-old male patient presented to the emergency with cocaine-induced giant bullous emphysema.
This case describes cocaine-induced giant bullous emphysema in a 50-year-old male patient. The patient was found unresponsive in the field. He had a history of cocaine abuse and was given multiple doses of naloxone in the field. However, he did not show any improvement in his mental status.
He was brought to the emergency department unresponsive and unable to follow commands. Although unresponsive to questions, he was responsive to painful stimuli. His respiratory rate was 38 breaths per minute with oxygen saturation of 90% on 6 litres nasal cannula. Physical examination was clear of any tracheal deviation and jugular venous distention. However, was remarkable of an uneven rise and fall on the right side of the chest, compared to the left side. Cardiopulmonary auscultation was remarkable of absent breath sounds of the right lung fields. Cardiac heart sounds were normal.
Diagnosis and Treatment
The patient was intubated on emergency basis for protecting the airway. Further evaluation included imaging with a portable chest X-ray which showed extensive lucency in the right hemithorax. The findings were suggestive of either a large pneumothorax or an air-filled cyst. In addition, chest CT confirmed an extensive pneumothorax of the right lung in the absence of mediastinal shift.
An emergent 24 French chest tube was placed in the sixth intercostal space on the right side. However, it failed to expand the lung. It was assumed that the patient required a larger sized chest tube. Therefore, a 32 French tube was used, however, that also failed to expand the lung. The two tubes did not drain any air, suggesting a lack of pneumothorax. After he was stable, he was admitted to the intensive care unit for further management. A few hours after he was admitted, a bronchoscopy was performed with a right chest VATS which showed a giant bulla that encased the entire right pleural cavity. The bulla was seen to be originating from the right upper lobe, beginning at the apex.
The treatment plan included extracting the bulla and pleurodesis by mechanical and chemical means. The patient's respiratory status showed great improvement after the procedure.
Follow-up
He was extubated on the 6th day of hospitalisation. Moreover, he was transferred to the general medicine floors the next day and on the 8th day was discharged without supplemental oxygen. The patient was tested for various causes of giant bullous emphysema. All other tests were within normal limits. HIV was not detected. Similarly, he was negative for malignancies and cystic lung diseases. Urine drug screen was positive for cocaine. He had no history of smoking tobacco, however, had a long history of intravenous and intranasal cocaine use.
The patient showed no symptoms and was in good health 2 weeks after discharge.
References
Cocaine-Induced Giant Bullous Emphysema https://www.ncbi.nlm.nih.gov/pmc/articles/PMC7225852/