A 42-year-old woman, known case of multiple sclerosis, rushed to the emergency department with complaints of accidental foreign body insertion into her bladder during intermittent catheterization.
The patient had been performing intermittent catheterization for the past 10 years as she had been suffering from neurogenic bladder secondary to multiple sclerosis. This time the patient stated that she accidentally pushed the catheter inside her urethra because she confounded it with her vagina tampon.
Imaging:
An ultrasound was performed to confirm the given history. On ultrasound, a foreign body was found inside the bladder (Figure 1), which was coherent with her history.
Removal of the foreign body:
Cystoscopy was performed to remove the foreign body. Under the cystoscopic direct vision, a 12Fr hydrophilic single-use catheter was found, which was removed by grasping the tip and then pulling it out through the urethra (Figure 2).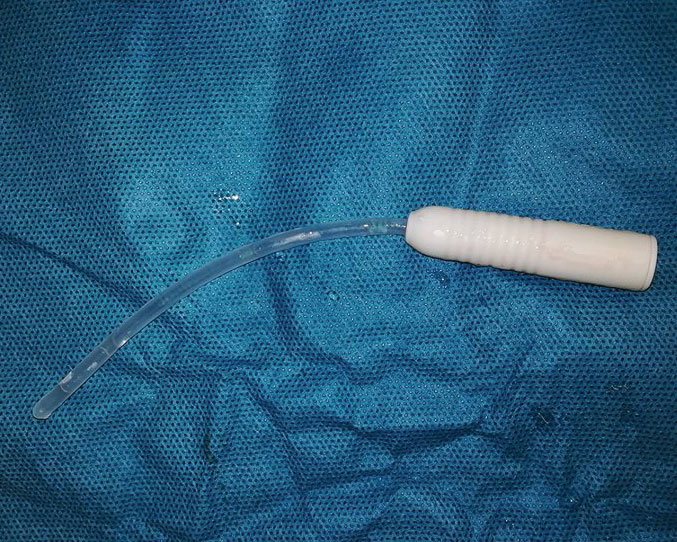 The patient suffered no complications, neither due to the accidental misplacement of the catheter nor due to the extraction procedure.
The female urethra, when compared anatomically with the male urethra, provides an easier passage for the foreign body to travel up the urethra as the female urethra is shorter and has no kink or obstruction as seen in the male urethra due to the position of the prostate.
Most cases of the bladder foreign body are related to sexual practices, including masturbation, sexual abuse, and sexual fetish, or other psychiatric conditions. Iatrogenic misplacement is also common. Rarely the patients present themselves with a transurethral insertion, as seen in this patient.
Patients with intravesical foreign objects may present with lower urinary tract symptoms, including microscopic or gross hematuria, burning micturition, pain, irritation, and urinary tract infection. Asymptomatic and self-presentations are rarely seen. Usually, due to fear or embarrassment, the patients present late or do not present until the symptoms are severe enough to seek medical attention.
Xrays can only detect radiopaque foreign bodies, whereas, for all others, ultrasound is necessary.
Usually, such patients are managed endoscopically through the transurethral route. In cases where the patients present late, the foreign body may encrust, hence necessitating open surgical extraction. In male patients, careful removal is necessary to avoid erectile dysfunction.
Since prompt and self-presentation is rare, it is imperative to consider the foreign body in cases with chronic lower urinary tract symptoms.
References:
Chondros K, Konsolakis I, Graikos K (2018) Young Woman with a Foreign Body into the Bladder. Clin Med Img Lib 4:125. doi.org/10.23937/2474-3682/1510125

Bansal A, Yadav P, Kumar M, et al. Foreign Bodies in the Urinary Bladder and Their Management: A Single-Centre Experience From North India. Int Neurourol J. 2016;20(3):260-269. DOI:10.5213/inj.1632524.262