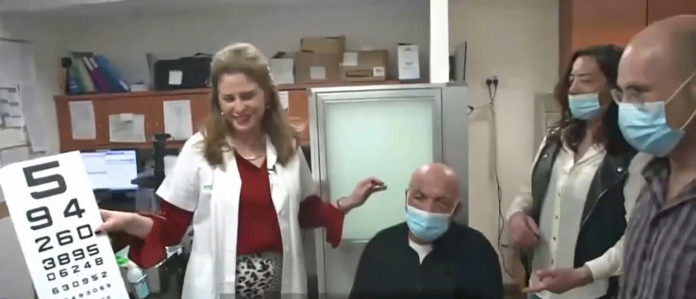 Doctors at Rabin Medical Center, Israel, successfully implanted an artificial cornea; restoring vision in a 78-year-old with bilateral blindness.
The artificial cornea, developed by CorNeat Vision, does not require donor tissue and can directly integrate into the eyewall.
After the surgery, the patient was immediately able to read numbers and recognize family members.
A 78-year-old man in Israel has become the first person to receive an artificial corneal implant that directly integrates into the eye wall. The implant, called KPro, was designed by the team at CorNeat Vision; an Israeli ophthalmic medical device company. The 100% synthetic, biomimetic implant helped restore the patient's vision after a decade of blindness.
Artificial Corneal Implant for Corneal Blindness
The cornea is a transparent, outermost covering of the eye; scarring of which can lead to vision loss and blindness. According to WHO, an estimated 2 million people per year suffer from corneal blindness. The most common causes include vitamin A deficiency, corneal infections, and trauma. The only definitive treatment of the condition is transplanting cornea from a healthy donor. However, donor corneas are not easily available. Moreover, it is difficult to transplant them into scarred or deformed corneas.
Therefore, the team at CorNeat Vision has developed the first artificial corneal implant that foregoes the need for human tissue. The implant directly integrates into the eye wall without triggering an adverse reaction. Therefore, making it a safer alternative to donor cornea.
78-year-old Recognizes Daughter After Years
Doctors at Rabin Medical Center, Israel, have now successfully implanted the CorNeat's artificial cornea in a 78-year-old with bilateral blindness. Previously, doctors had made multiple attempts to return the patient's sight using donor corneas. However, that not only led to infections but also damaged his eyes further.
Immediately, after the removal of the bandages, doctors observed a significant difference in the patient's vision. Not only could he identify numbers from a chart, but also recognized his daughter. Something he was unable to do before his surgery.
The company aims to conduct further trials to get approval for the implant as a first-line treatment in corneal blindness.
Reference:
"CorNeat Vision's First Patient Regains Sight Following Artificial Cornea Implantation at Rabin Medical Center, Ending a Decade of Blindness." Cision PR Newswire UK Provides Press Release Distribution, Targeting, Monitoring, and Marketing Services, 11 Jan. 2021, www.prnewswire.co.uk/news-releases/corneat-vision-s-first-patient-regains-sight-following-artificial-cornea-implantation-at-rabin-medical-center-ending-a-decade-of-blindness-866070880.html.