A mysterious illness is causing stomach distension among dozens of Helmand children in Afghanistan.
Located in the south of Afghanistan, the war-torn province of Helmand is famous for its opioid production. The heavy militant activity in the region has made it the most dangerous province in Afghanistan. As a result, people in Helmand face increasing amounts of poverty and hunger. Moreover, malnutrition is a common concern among Helmand children. However, health officials are now reporting another health concern in the region.
According to the local news, multiple cases of a mysterious disease that causes abnormally swollen stomachs among people have come forward. The disease mostly affects children and multiple districts in the province have reported cases of the disease. The Helmand Provincial Civil Hospital has so far received over 30 cases. According to Zalmai Pashton, head of Helmand Provincial Civil Hospital, samples have been sent to Kabul for further investigations.
Local residents believe the consumption of recently imported wheat from Iran is likely causing stomach distension among people. Similar to the 2007 outbreak in Herat province of Western Afghanistan.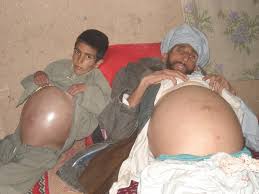 The Charmak Disease
In November 2007, people in the Gulran District of Herat began presenting with a swollen abdomen, vomiting, and abdominal pain. The outbreak caused over 17 deaths and infected over 190 people. Health officials linked it to the consumption of locally harvested wheat. The disease soon became known as 'camel belly', or 'charmak disease'.
'Charmak' is the local name of a toxic weed that grows alongside wheat. Public health officials believe that farmers accidentally collected and milled it with the wheat, resulting in the toxic wheat flour. Charmak contains alkaloids that can cause obstruction of the small hepatic veins. Thus, resulting in fluid retention. The veno-occlusive disease, therefore, causes enlargement of the liver, fluid buildup in the abdomen, and impaired liver function.
Afghanistan's Ministry of Public Health (MoPH) then sent wheat flour samples to testing centres in the Netherlands to investigate whether the wheat was toxic. Upon confirmation of results, the MoPH began encouraging people to stop consuming the local flour.
Due to the similarities between the recent cases in Helmand and the one in Herat, it is highly likely that the cases are due to tainted wheat. Health experts believe that medical measures alone cannot prevent the disease. Instead, better agricultural policies along with improvements in wheat harvesting are required to prevent an outbreak.
Reference:
PAJHWOK Afghan News