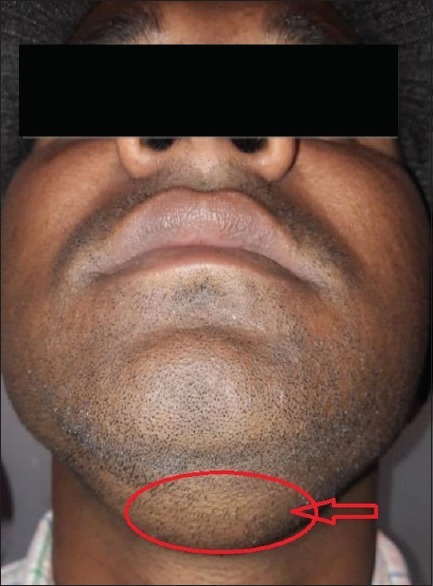 A young man presents with a history of trauma 5 years back which resulted in a submental swelling giving appearance of a double chin!
A 27-year-old male presented with a swelling in the submental region. The submental swelling gave an appearance of a double chin. History revealed a trauma 5 years back which resulted in a painless mass due to hematoma under the chin. The mass/hematoma was initially less than 1 cm but gradually progressed during the following year.
Physical examination revealed a swelling measuring approximately 4 cm × 3 cm × 2 cm. The mass freely mobile, non-tender, and doughy in consistency. Additionally, it was not fixed to the underlying or the overlying structures. The examination did not reveal any lymphadenopathy. Moreover, the examination of the oral cavity was unremarkable with normal tongue movements.
The doctors aspirated the mass. Aspiration cytology revealed 0.5 ml-thick semifluid material. Microscopic examination revealed blood cells, clusters, and dispersed benign enucleated squamous cells. Hence, the results suggested the diagnosis of dermoid cyst.
Ultrasound of the submental region showed a well-defined, homogeneous, hypoechoic lesion. Also, it was thin-walled and measured 25 mm. Color Doppler excluded vascular lesions. The mass did not communicate with the thyroid gland. All the features suggested a benign cystic lesion.
Therefore, a working diagnosis of the dermoid cyst was established.
Surgeons performed enucleation of the cyst under general anesthesia. Postoperative histopathological evaluation revealed a fibro-collagenous cyst wall with a prominent granular layer along with scattered chronic inflammatory cells. Flakes of lamellated keratin filled the lumen of the cyst. Moreover, the lumen also contained a few giant cells within the stroma, supporting a diagnosis of dermoid cyst.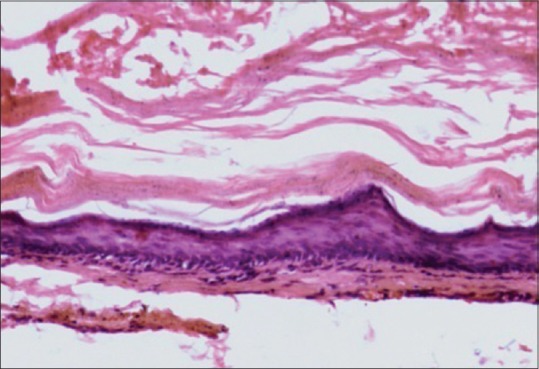 The patient recovered without any complications during the postoperative recovery. Since the patient had recovered well, the doctors discharged him on the 2nd postoperative day with antibiotics prescribed for 5 days and an advice to follow-up.
At the 6-month follow-up, the patient had no signs of recurrence nor had any complications.
Reference:
Bommaji SB, Qureshi MY, Reddy GS, Rampati S. Submental Dermoid Cyst Mimicking Double Chin. Niger J Surg. 2019;25(2):217-219. doi:10.4103/njs.NJS_36_18