A retired worker of a tire manufacturing plant presented with dermally implanted rubber in hands, forearms, and upper arms due to repetitive trauma
A 57-year-old male patient presented with dermally implanted rubber in hands, forearms, and upper arms. He had no symptoms at presentation. The patient had worked in a tire manufacturing plant for 37 years; however, he had retired 6 years back. He had a history of frequent episodes of trauma while cutting unvulcanised rubber implanted with sharp metal strips.
The patient reported that his work was to manipulate and hand-cut unvulcanised rubber sheets. Those sheets had uniform, thin metal wires embedded within the rubber sheets. Moreover, the metal wires extended beyond the ends of the rubber sheets. This exposed the patient to repeated puncture wounds while cutting the rubber sheets. Most probably, the repeated wire punctures "tattooed" the worker's skin over a period of time with rubber particles; in other words, resulted in traumatic implantation of the rubber.
When asked, the patient revealed that he did not wear gloves while working as the use of gloves compromised his tactile ability. However, he wore forearm sleeves for over a decade. Moreover, he revealed that he also noticed similar skin findings in many of the co-workers in his department.
On examination, the left index finger had the most pronounced dermally implanted rubber, hence darkly discoloured.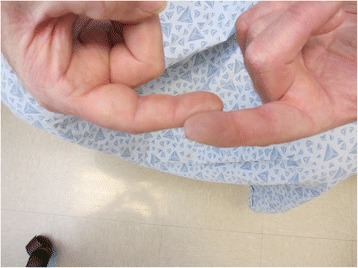 Histopathological analysis of the lesions revealed perivascular pigment consistent with rubber tattoo. Since the patient had a history of lengthy retirement, no systemic biomarkers were measured. However, the patient showed specific curiosity about the increased risk of malignancies due to the "rubber tattoos."
Manufacturing jobs contribute the most to the burden of occupational skin diseases as compared to other industries. Especially in the rubber industry, skin exposure and repetitive contact with warm unfinished rubber products is the primary route for dermal contamination.
The association of occupational rubber exposure and skin malignancy is not certain yet. Some studies have shown insufficient evidence to link the rubber industry with skin cancer, whereas other studies outlined an established link between the two. However, polycyclic aromatic hydrocarbons (PAHs) are skin carcinogens and are still very much present in the modern-day rubber industry.
Nonetheless, it is best to wear personal protective equipment, including gloves to prevent skin contact with uncured rubber. Moreover, for inhalational prevention in areas of fumes or dust particulate, task-specific mask filters are recommended.