Doctors find a lost dental floss pick 8 years later from the patient's windpipe. This happened when he presented with an acute episode of coughing up blood.

A 32-year-old, otherwise healthy male with no known comorbid, presented to the emergency department with complaints of bright red blood during acute coughing over the past 3 hours. This happened after an episode of sneezing. The blood was approximately 300 ml in quantity. After a series of investigations, the doctors found an impacted dental floss in the windpipe.
History revealed that the patient was a non-alcoholic, non-smoker, and had no history of upper airway diseases, chest trauma, or medication use including aspirin or non-steroidal anti-inflammatory drugs. Moreover, he denied any similar previous episodes or other pulmonary symptoms. Neither he nor his family had any history of haemoptysis, chest diseases, or bleeding disorders.
On examination in the ER, his body temperature was 36.8°C, pulse was 88/minute, respiratory rate was 18/minute, and blood pressure was 128/88 mmHg. Oxygen saturation on room air was 98%. The rest of the physical examination was unremarkable.
Serological investigations revealed normal complete blood count, urea and nitrogen, creatinine, liver function tests, and coagulation profiles. Also, urinalysis was also normal.
Imaging revealed a foreign body!
The doctors advised a plain radiograph of the chest which showed an ill-defined opacity around the left hilum.
Computed tomography scan of the chest revealed a soft-tissue opacity within the left main bronchus. Also, it revealed a needle-shaped object protruding from the bronchus.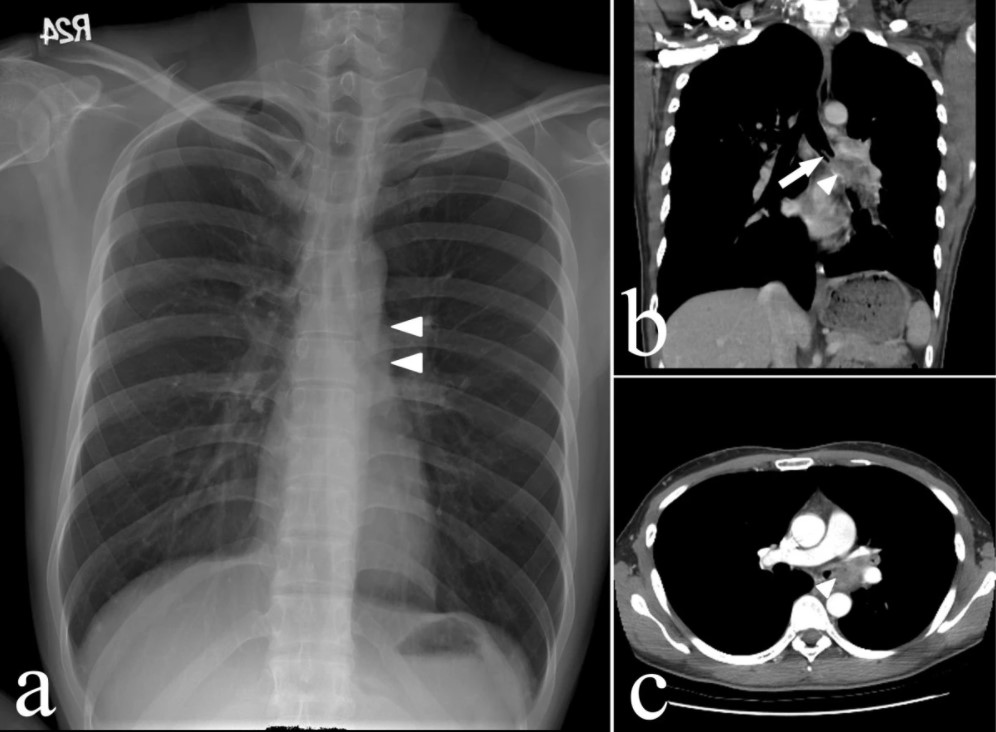 With the above findings, the doctors strongly suspected retained tracheobronchial foreign body. They performed flexible fiberoptic bronchoscopy which showed an impacted dental floss pick in the left main bronchus. Moreover, it also showed granulation tissue formation and clotted blood over it.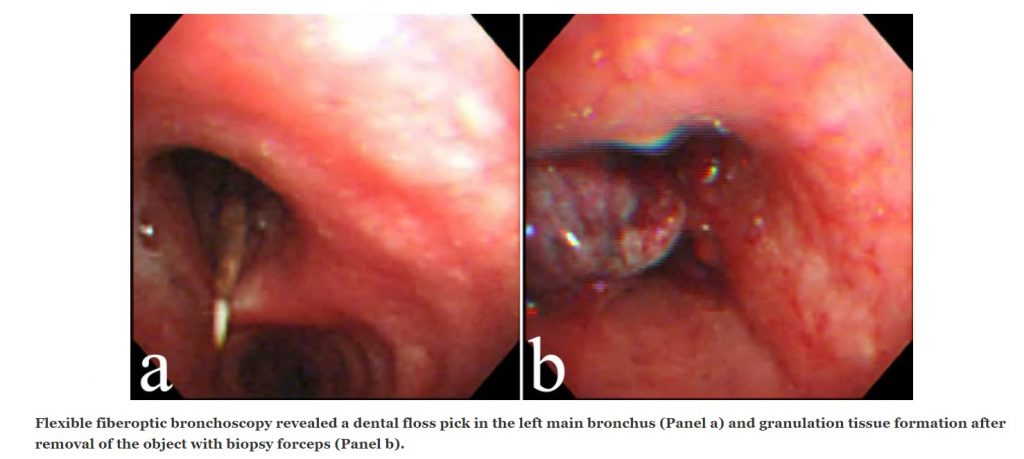 The impacted dental floss pick was successfully removed using biopsy forceps. The procedure had no complications. After the removal of the object, the patient recalled ingesting a dental floss pick accidentally around 8 years back. However, never had he ever experienced any symptoms during the past 8 years.
He admitted continued use of dental floss to clean his teeth daily.
Post-procedure, the patient did not have another episode of hemoptysis. Therefore, he was discharged from the hospital after a few hours.