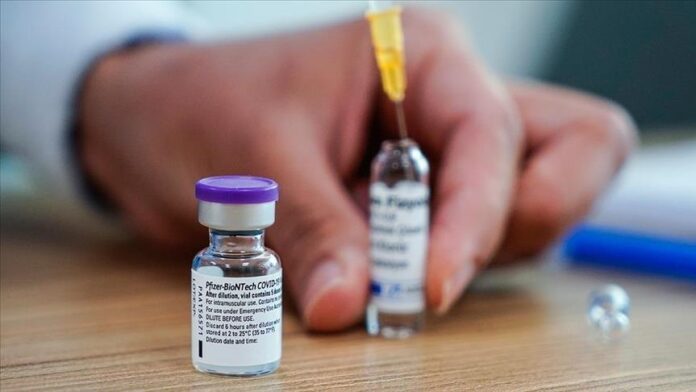 Immune Thrombocytopenia in 41-year-old secondary to Pfizer-BioNTech Vaccine.
Immune thrombocytopenia has widely been reported to be linked with SARS-CoV-2 infection but not with COVID-19 vaccine. This is the first reported case of immune thrombocytopenia associated with COVID-19 vaccine. The article describes the case of a 41-year-old woman who presented with fever, tachycardia and nausea with a history of 12 years. The patient's medical history revealed multiple allergies, hypothyroidism, hypertension and pre-diabetes. She was currently under treatment with enalapril and levothyroxine.
The patient had received the COVID-19 vaccine, Pfizer–BioNTech just 12 hours before she presented with the symptoms. When the doctors initially evaluated her, she complained of loose stools, headache and malaise. There were no signs of urinary or neurological symptoms. She had taken paracetamol for fever and metoprolol for tachycardia. Other than this she had taken no other medications.
Physical examination showed that the patient had a blood pressure of 154/99 mm Hg, 108 beats per minute pulse and 94% SpO2 while breathing ambient air. The patient's temperature was 37.4°C. Other significant findings included that she was mildly dehydrates. However, her physical examination was normal. For further evaluation doctors advised blood tests which showed a normal leucocyte count and no signs of lymphopenia. In addition, the test results showed moderate thrombocytopenia.
4 months ago the patient had undergone a blood test which showed a normal platelet count and ruled out pathologies.
All other findings including coagulation tests, iron levels and storages were within normal range. Her IgE and C reactive protein were elevated. Doctors ruled out Sjögren's-syndrome based on the test findings. Neither were there any alterations noted in the peripheral smear. Anti-platelet antibodies and bone marrow smear was not performed.
Doctors diagnosed her with immune thrombocytopenia. Immune thrombocytopenia (ITP) is an autoimmune disorder that inhibits the production of platelets and also impairs the circulating platelets. Most cases of ITP are related to autoimmunity. Although, in some cases, viral infections and even vaccines can act as secondary triggers. In this case the patient acquired immune thrombocytopenia secondary to Pfizer-BioNTech COVID vaccine.
Doctors kept the patient under observation at the emergency department where they administered intravenous fluids therapy with fever management and antipyretics. 12 hours later, the blood test was repeated which showed a decrease in the platelet count. The patient also developed petechiae, bleeding gums and a headache while under observation. For managing the symptoms, she was administered 1 gm of methylprednisolone. Doctors further advised a CT scan of the brain which showed no evidence of intracerebral haemorrhage. She was started on 40 mg of intravenous dexamethasone and intravenous immune globulin.
The patient was discharged with a normal platelet count after 5 days with no signs of gingival haemorrhage.
References
Secondary immune thrombocytopenia supposedly attributable to COVID-19 vaccination https://casereports.bmj.com/content/14/5/e242220