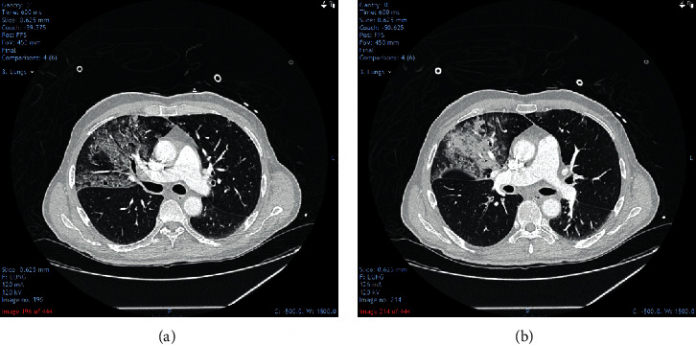 Case of spontaneous tension pneumothorax caused by COVID-19 infection.
This article describes the case of a 62-year-old male patient with spontaneous tension pneumothorax, a complication of COVID-19. The patient presented to the emergency with a 4-day history of shortness of breath, dry cough, low-grade fever and dry cough. He was diagnosed with a pulmonary embolism 10 months ago. However, his pleuritic sounding chest pain was different from his previous presentation. Ruling out the probability of a recurring pulmonary embolism.
The patient's medical history was significant for diabetes mellitus type 2, peripheral vascular disease, essential hypertension, diverticular disease and a malignant neoplasm of the base of the tongue. His tolerance to exercise was restricted to 10 yards with walking stick assistance. He was living independently with his wife. Further questioning revealed that he had stopped smoking a few years ago. However, when he was a smoker, he smoked 5 cigarettes a day.
He was febrile on admission with a temperature of 38.2°C, his oxygen saturation was 98%, FiO2 28%, blood pressure 73/35 mm Hg and pulse 92 bpm. Doctors initially treated him with 28% FiO2 via a venturi mask and for hypotension fluid resuscitation. Physical examination showed a swollen and tender right leg. In addition, auscultation showed bibasal crepitations. Laboratory investigations revealed deranged biochemical markers.
Doctors further advised a computed tomography angiogram (CTPA). The findings were remarkable for right upper lobe consolidation and subtle peripheral ground glass opacification in both lower lobes and left upper lobe.
The patient was diagnosed with COVID-19 infection.
Further tests showed an increase in troponin I levels. Electrocardiogram showed ST segment depression and T-wave inversion in the anterolateral chest leads. In addition, the transthoracic echocardiogram showed an impaired left ventricular systolic function with a rounded and akinetic apical septal wall. Doctors treated the patient as a suspect of COVID-19, community-acquired pneumonia, COVID-19 myocarditis and sepsis that led to multiorgan failure.
The patient began to show improvement and was able to be weaned off oxygen 3 days after admission. By this time his swab test confirmed the diagnosis of COVID-19.
However, despite showing improvement initially, he suddenly developed an increased need for oxygen.
Chest physiotherapy helped him stay stable with an oxygen saturation of 93% for most of the day. Although, he suddenly deteriorated, becoming critically unwell and developed cyanosis. Oxygen saturation was 80% on 15 litres non-breathable mask. Examination showed tachypnea with a respiratory rate of 40/minute.
Chest x-ray showed a large right-sided pneumothorax, causing a mediastinal shift. Therefore, doctors inserted an intercostal drain on emergency basis. The patient showed slight improvement over the next 24 hours. However, still requiring oxygen through a high flow nasal cannula. Unfortunately, the lung did not reexpand and the patient continued to deteriorate. He died unable to tolerate any further pleural procedures.
References
Spontaneous Tension Pneumothorax as a Complication of COVID-19 https://www.ncbi.nlm.nih.gov/pmc/articles/PMC7783511/