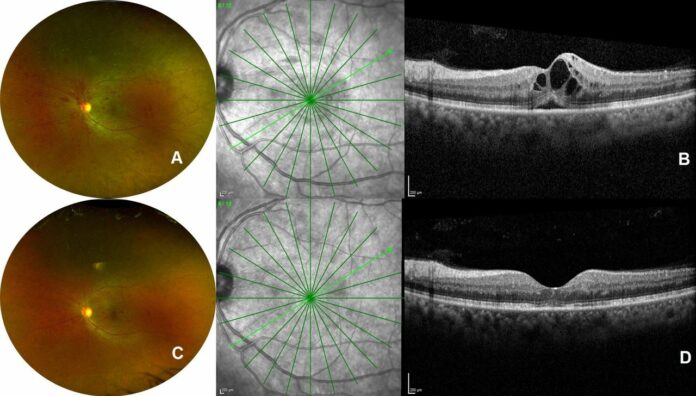 Central retinal vein occlusion, a secondary manifestation of COVID-19
Retinal findings associated with SARS-CoV-infection are because of activated thrombotic microangiopathy and hypercoagulable state, leading to retinal artery and venous occlusions. Although, there is not enough literature on vein occlusion associated with COVID-19. This article describes a case of central retinal vein occlusion and macular oedema, secondary to COVID-19 infection. The case is of a 56-year-old healthcare professional who was working at a COVID-19 hospital in South India. She presented to a tertiary eye care hospital with complaints of a 1-month history of decreased vision in her left eye.
Her medical history revealed that she was diagnosed with diabetes 5 years ago and was prescribed oral hypogylcaemic agents. Examination of the right eye showed best-corrected visual acuity of 6/6, N6 (+2.00 DS), whereas in the left eye of 6/18, N10 (+1.75 DS). Her blood pressure on the day of presentation was 124/82 mm Hg. Other examinations including intraocular pressure in both eyes, anterior segment examination and pupillary reaction were all within normal limits. Fundus examination of the right eye was within normal limits. On the contrary, the left eye showed scattered retinal haemorrhages and a few microaneurysms in all four retinal quadrants. Other findings included: dilated retinal vessels and hyperaemic discs. The findings were consistent with non-ischaemic CRVO and macular oedema and coexistent mild stage of non-proliferative diabetic retinopathy.
Investigation findings showed a cystoid macular oedema with intact outer retinal layers and shallow neurosensory detachment
Doctors further advised a spectral domain coherence tomography using Spectralis machine. The findings showed a cystoid macular oedema with intact outer retinal layers and shallow neurosensory detachment. Considering the fact that she presented to the hospital during an ongoing pandemic, she was also tested for COVID-19 antibodies. Her test results were positive for SARS-CoV-2 IgG and negative for IgM. PCR testing was not required because she was not ill enough for hospital admission. Based on the initial findings, doctors diagnosed the patient with retinal vein occlusion associated with COVID-19. She was started on low-dose aspirin and advised intravitreal anti-VEGF therapy.
A month later the patient's visual acuity showed significant improvement without having undergone intravitreal anti-VEGF therapy. Optical coherence tomography showed a complete resolution of macular oedema. Doctors put her on low-dose tablet aspirin 150 mg and was called for a follow up after 3 months.
References
COVID-19-associated central retinal vein occlusion treated with oral aspirin https://casereports.bmj.com/content/14/5/e242987