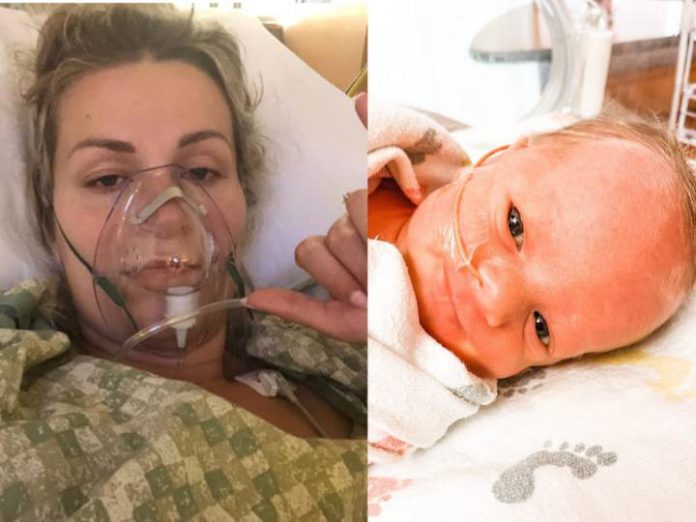 On April 1st, 2020, a woman gave birth to a baby girl via vaginal delivery all while in a medically induced coma. The baby was named Ava meaning 'breath of life'. 
Angela Primachenko, a respiratory therapist at Legacy Salmon Creek Medical Center, Oregon, was 33 weeks pregnant when she started developing symptoms of COVID-19 (Coronavirus Disease 2019). It started with a runny nose that developed into a fever and later progressed to a cough, that just worsened with time. On the advice of her family, she decided to get tested and was found to be positive for SARS-COV-2. 
As a respiratory therapist, Angela knew the amount of damage her lungs would sustain as her breathing worsens. 
Three days later, after consultation with her team of doctors, Angela agreed to be put on a ventilator and an induced coma. Her team of doctors then later decided to induce labor to give her lungs more space to expand and, provide her body with the required nutrients for recovery.
Despite the grim prognosis for patients on ventilators, after five days of giving birth to her daughter, Angela's health finally took a turn for the better and she was taken off the ventilator.
The baby tested negative for the virus and has been in the NICU until now. After testing negative for the virus on two back-to-back COVID-19 tests, Angela finally got to hold her child for the first time this past week. According to her family, baby Ava will be able to go home with her parents later in the week.
A recent study published in the American Journal of Obstetrics & Gynecology points out that pregnant women are not at a higher risk of developing a severe COVID-19 infection compared to SARS and MERS. 86% of the study participants developed mild symptoms, 9.3% developed severe forms and only 4.7% were in a critical condition. However, this case series included a small sample and as the pandemic progresses, more and more pregnant women are seen to be suffering from severe COVID-19 symptoms. 
Around 30% of the women in the study were seen to be asymptomatic and were only detected due to routine testing on admission or, on developing symptoms of infection later on. The study, therefore, calls for hospitals to carry out testing on all pregnant women admitted to hospitals so as to protect them and all those involved in their circle of care. Further research is needed to understand the true effect of the virus on the health of pregnant women.
References:
Breslin N, Baptiste C, Gyamfi-Bannerman C, et al. COVID-19 infection among asymptomatic and symptomatic pregnant women: Two weeks of confirmed presentations to an affiliated pair of New York City hospitals [published online ahead of print, 2020 Apr 9]. Am J Obstet Gynecol MFM. 2020;100118.