Can eating fish a health hazard? A case of a vacation gone wrong due to fish poisoning!
An otherwise healthy young man, 39 years of age, presented after two days of returning from Havana, Cub, with complaints of altered temperature sensation in extremities; tingling sensation around mouth and nose; and pain in his joints (particularly, knees and elbows). The patient had no other gastrointestinal, cardiovascular, or any other symptoms. History revealed a clue to the suspicion of fish poisoning!
The patient described his altered temperature sensations as inversion, i.e. feeling a hot burning-like sensation while washing hands under cold water. Similarly, his feet felt warm and as if they were burning when he walked on the cold tiled floor with bare feet. These symptoms were not present while taking a shower, nor when he ate or drank.
What was the clue in his history which made fish poisoning a differential?
Two days before the presentation, the patient had returned after spending a week in Havana, and just before the night before his departure, he had eaten 2 portions of a large fish called the dog snapper.
Examination:
On examination, the patient seemed. He was conscious, oriented and alert. His vitals were normal. There was no facial asymmetry, and touch sensations were intact. Motor examination was also normal.
Examination of the painful joints revealed no visible swelling, warmth, rash, or restriction of movement.
The physicians made a diagnosis of ciguatera. It is a foodborne illness caused by consuming fish. Temperature sensation reverses in only 50% of the individuals, but it is pathognomonic of ciguatera.
The doctor advised the patient to fish, nuts, caffeine and alcohol for the next 6 months at the least.
Over the next month, the patient suffered symptoms intermittently, with exacerbations after heavy physical activity and alcohol consumption. He reported having 3 episodes of worsening joint pain, tingling and numbness of the face and extremities. The patient also complained of sleep disturbances, notably insomnia.
At the 6-week follow-up, the patient had improved completely, and his symptoms are resolved. He returned to his usual diet.
The 3- and 6-month follow-up also revealed a healthy patient with no symptoms.
Ciguatera is marine toxicity occurring secondary to ingestion of large reef fish including snapper, barracuda, grouper, and eel. The toxins are resistant to heat and freezing temperature, therefore, cooking and freezing do not kill the toxins.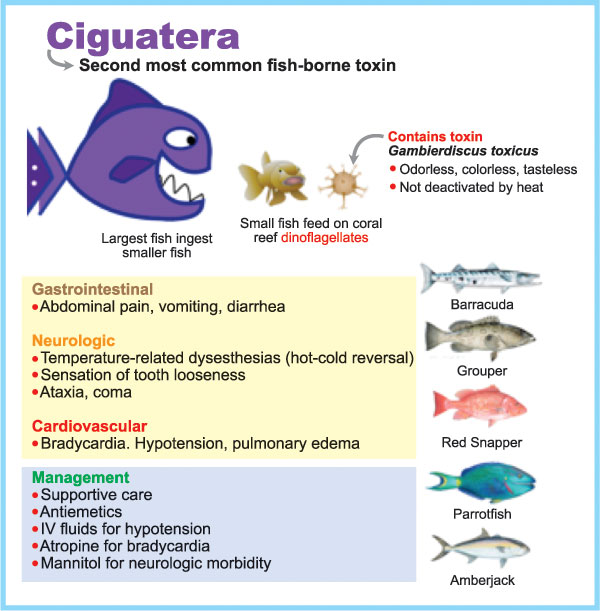 References:
Courtney A. Thompson, Farah Jazuli, Linda R. Taggart and Andrea K. Boggild, CMAJ January 09, 2017 189 (1) E19-E21; DOI: https://doi.org/10.1503/cmaj.151207