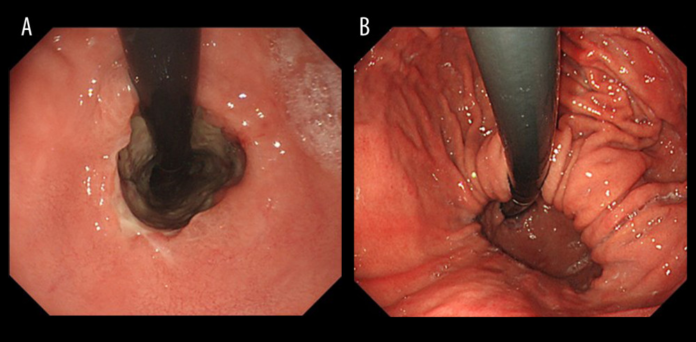 Cardiac arrest associated with hiatal hernia
Patients with gastrointestinal comorbidities are more likely to be undernourished, and therefore, are at a higher risk of developing refeeding syndrome.
This article describes the case of an anaemic patient, diagnosed with hiatal hernia while investigating the cause of her anaemia.
While her nutritional status showed steady improvement, there was an episode of refeeding syndrome, which is common in undernourished patients. This also triggered a cardiac arrest in the patient.
This article describes the case of a 59-year-old woman who was ill for almost a year and was diagnosed with refeeding syndrome. Although she never visited the hospital and was only brought into the emergency department, after her husband found her lying in vomit. At the time of the presentation, physical examination showed a bodyweight of 32.3kg and 16.5kg. Whereas her vital signs were 20 breaths per minute, her blood pressure and peripheral oxygen saturation were undetectable, though her body temperature was 27.5°C. The patient was also severely anaemic and suffered from refeeding syndrome induced cardiac arrest during treatment.
History and diagnosis
According to the patient's history, a month prior to her admission, the patient was bedridden and her food intake was low. She was treated with a rapid infusion of Ringer's acetate solution, extracellular fluid and blood transfusion. The doctors further treated her hypothermia by rewarming her with a warm air blanket. The patient was further followed up with potassium correction because the potassium level was low. Differential diagnoses included Wernicke's encephalopathy, a neurological condition characterised by ophthalmoparesis with nystagmus, ataxia, and confusion. Doctors administered fursulatiamine 1500 mg/day for 2 days. Followed by 1000 mg intravenous IV bolus injections for 5 days.
The patient was further referred for an upper endoscopy to investigate the cause of anaemia which revealed the presence of a hiatal hernia. The findings also showed severe reflux esophagitis. For treatment, doctors advised omeprazole, twice a day. On the first day after the patient was admitted, the patient was given total prenatal nutrition of 289 kcal/day. Soon after initiating treatment, the patient was referred for electrocardiography which showed a sinus rhythm. A few hours later, the patient experienced an episode of marked QT interval prolongation. This further resulted in pulseless ventricular tachycardia. Doctors started chest compressions immediately, despite it the QT prolongations continued.
Successful resuscitation of cardiac arrest after refeeding syndrome
As stated in the study, the course of treatment was as follows: "IV potassium chloride and a bolus of 1 g magnesium sulfate IV, followed by a continuous infusion of a total of 0.5 g magnesium sulfate over the next 6 h. The potassium chloride dosage was adjusted according to the results of the blood gas analysis. Consequently, the electrocardiographic monitoring changed from a pulseless VT to a sinus rhythm. However, because the QT prolongation continued (QTc 0.68 s), a temporary pacemaker was inserted through the left internal jugular vein to prevent the recurrence of arrhythmia, and overdrive pacing was started at a heart rate of 70 beats/min".
On the second day of being hospitalised the patient's QT prolongation showed significant improvement. Doctors repeated blood tests which showed low serum phosphorous levels. Thus, the doctors administered dibasic potassium phosphate solution via IV. On the third day, the patient was referred for a 12-lead electrocardiogram. Findings showed that the corrected prolongation had improved, therefore, the temporary cardiac pacing was discontinued.
Prognosis
To prevent the recurrence of the refeeding syndrome, the patient's nutrition was increased to 200 kcal/day. Refeeding syndrome is defined as a shift in fluids and electrolytes that is potentially fatal. It is common in malnourished patients who receive artificial feeding either enterally or parenterally. The shifts are usually because of hormonal and metabolic changes and can cause serious complications. On the nineteenth day of hospitalisation, the patient was referred for a follow-up upper endoscopy which showed significant improvement in reflux esophagitis.
Doctors changed the feeding route to a transduodenal tube from a central venous catheter. The patient's nutritional status also showed gradual improvement. She was transferred to another hospital on the thirtieth day without any complications, a weight of 36.9 kg and BMI of 18.8 kg/m2.
Source: American Journal of Case Reports