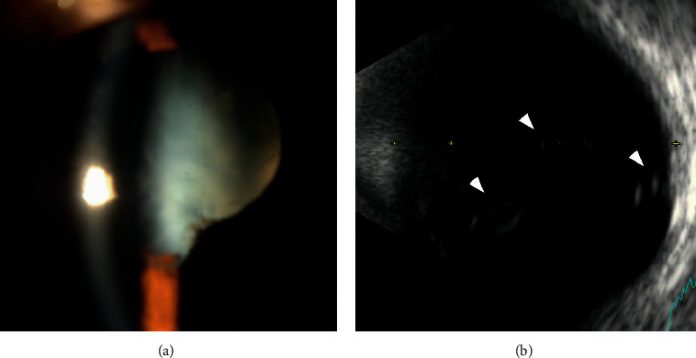 Worsening of retinal detachment in 20-year-old with persistent fetal vasculature after cataract surgery.
This article describes the case of a 20-year-old Myanmarese woman who presented to the hospital with a 3-year history of decline in vision in her left eye. Doctors diagnosed the patient with a mature cataract. Doctors referred her to the Chiba University Hospital for further evaluation and treated of cataract. The patient had no medical history. And since the patient had grown in Myanmar and had recently moved to Japan, there were no medical records available. The decline in vision was secondary to retinal detachment post cataract surgery.
Doctors advised laboratory tests for ruling out infectious diseases, the results of which were negative.
According to the patient, she was born full-term and had no family history of retinal detachment. The first examination showed that her left vision was light perception. Similarly, she had a mature cataract with no inflammation and iris neovascularisation and a slightly anterior chamber.
However, doctors could not perform a detailed examination of the fundus because of the presence of a dense cataract. Although, B-mode echogram showed some strands of high signals that extended anteriorly from the head of the optic nerve. The patient's right eye was normal with a vision of 20/20. Similarly, her intraocular pressure was 18 mm Hg. The axial length in the right eye measured 23.78 mm and in the left eye 23.46 mm.
The patient underwent phacoemulsification and implantation of an intraocular lens in the left eye.
There were no complications during surgery and the postoperative course was uneventful. Likewise, her left vision showed recovery and measured 20/200. A year and a half after the initial surgery, the patient noticed declining vision in her left eye with a visual acuity of 20/400. The area of retinal detachment was seen to be extending over two quadrants of the inferior retina. There were no signs of retinal breaks. Optic coherence tomography showed involvement of the macula. Treatment included pars planta virectomy. In addition to this, no additional procedures were performed.
The retinal detachment resolved gradually. Optical coherence tomography confirmed macula reattachment. The vision in her left eye showed improvement to 20/60 and was stable for 19 months after the second surgery. In addition, there were no signs of worsening of the retinal proliferation or detachment.
References
Worsening of Retinal Detachment after Cataract Surgery in the Eye with Persistent Fetal Vasculature https://www.ncbi.nlm.nih.gov/pmc/articles/PMC7920703/