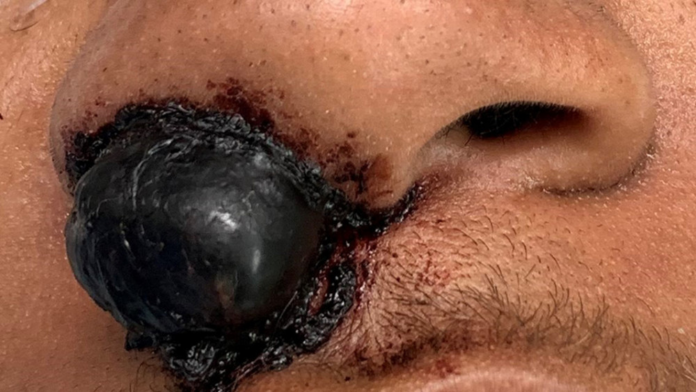 Case study: Intranasal lobular capillary hemangioma
A 16-year-old male patient with no significant medical history presented with recurrent epistaxis. According to the patient, epistaxis from the right nasal cavity began 2 months before. He experienced the epistaxis 1 to 2 times daily and it lasted for about 3 to 5 minutes. The bleeding stopped with direct pressure by pinching the nose over the cartilaginous tip for a few minutes. The frequency and duration of the epistaxis increased with time. Based on investigation findings, he was diagnosed with an intranasal lobular capillary hemangioma.
The patient had several visits to the emergency department. However, each time, application of external pressure and oxymetazo-line controlled the bleeding, eliminating the need for nasal packing. He also developed a post-nasal drip of blood, leading to episodic nocturnal choking. This would keep him up from sleep. Doctors noted a mass in the right nasal cavity at his last emergency department visit. He suffered from nasal obstruction and snoring. However, he did not have a history of recurrent sinus infections, easy bruising, decreased activity, fever, night sweats, weight loss, hyposima or anosmia. Neither was his medical history significant for any cancers.
Physical examination showed a fleshy violaceous mass protruding from the right nasal cavity
On examination the mass was non-tender and mobile. Doctors further advised magnetic resonance imaging (MRI), which showed an enhancing mass in the right nasal vestibule. The mass was closely associated with the nasal septum and lateral wall. Other findings included a displaced adjacent mucosa without any signs of gross invasion. A hypointense rim was also noted around the mass. Doctors diagnosed the patient with an intranasal lobular capillary hemangioma. He was referred for surgical removal of the mass. The patient had a full recovery during the postoperative period with no signs of recurrence.
Epistaxis is a common complaint in children, with the highest prevalence in patients less than 10 years of age or older than 70 years. In majority of cases, the condition resolves on its own without any intervention. However, identifying the cause is critical in children with recurrent and severe epistaxis. There are a variety of reasons, including local, systemic and environmental factors that may cause nose bleeds. Common local factors include trauma, infection, inflammation, neoplasms and structural abnormalities. Systemic factors should also be ruled out during diagnosis.
This case highlights the importance of excluding more serious underlying aetiologies of nose bleeds.
Source: American Journal of Case Reports