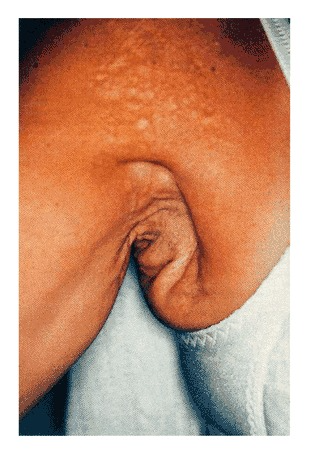 Pseudoxanthoma elasticum with lesions in the axillae
This article describes the case of pseudoxanthoma elasticum (PXE), a progressive disorder that is characterised with calcium and other minerals accumulation in elastic fibres. Elastic fibres are a part of connective tissue, and structures throughout the body providing it strength and flexibility. In this condition the mineralisation can affect the elastic fibres in the blood vessels, eyes and skin. However, less frequently other areas including the digestive tract. In this condition the patients may also present with yellowish papules on the neck, underarms and other flexor areas of the body. Other signs may include abnormalities in the eyes with changes in the pigmented cells of the retina, known as peau d'orange.
Another abnormality referred to as angioid streaks occurs when tiny breaks form in the tissue layer under the retina, known as Bruch's membrane. Bleeding and scarring of the retina may also occur, causing vision loss. In this case, the patient presented with characteristic lesions in the axilla and anterior to the axilla. Doctors diagnosed the patient with pseudoxanthoma elasticum. The lesions are yellow with xanthoma-like papules, forming plaques with redundant folds on the skin. Generally the lesions occur in flexure sites, such as, groin, popliteal fossa, antecubital fossa, neck and axillae, as with this case. It resembled "plucked chicken skin" and is typically found in patients with angioid streaks on retinal examination.
Other signs and symptoms of PXE may be a result of mineralisation of the blood vessels that carry blood from the heart to the rest of the body. In some cases there may be narrowing of the arteries (arteriosclerosis) and claudication which manifests with cramping and pain while exercising. This is because of a decrease in blood flow to the arms and legs. In rare cases, bleeding from blood vessels in the digestive tract may occur.
Source: NEJM