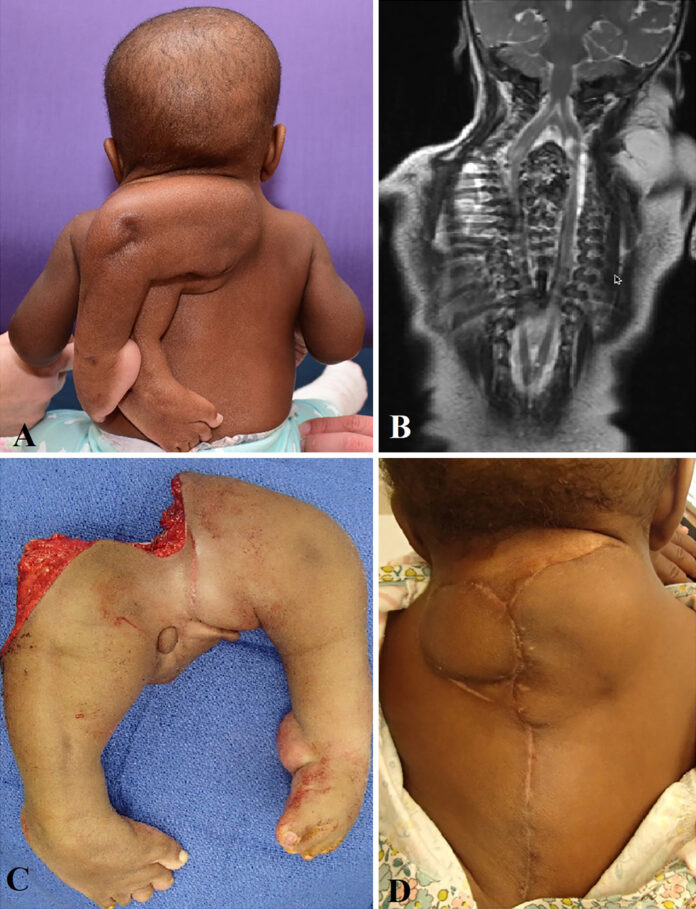 Rachipagus – a rare conjoined twin subtype
A parasitic twin is a rare developmental anomaly in which an asymmetrical, nonviable conjoined twin is attached to the body of the host at the time of birth. This article describes the case of a 9-month old girl who presented with a rachipagus parasitic twin with a set of fully developed lower extremities originating from the midline upper back. Rachipagus is known as the rarest of conjoined twin subtypes, featuring a parasitic twin mass attached at the spine. The surgeons successfully excised the mass with a multidisciplinary approach and the resulting defect was closed in a single stage.
Case study: parasitic conjoined twin
9-month-old, full-term female infant presented to Advocate Children's Hospital in Park Ridge, Illinois for evaluation of an extra pair of limbs attached to the upper dorsal midline. The parent's personal issues did not allow the parents to accompany the child, doctors gained access to limited birth and medical history information through local interpreters. The patient's history revealed that she was born in West Africa, via an uncomplicated vaginal delivery. Examination showed that she could sit unsupported and had normal functioning of her native lower extremities. However, she did not yet crawl. The patients weight was 15 lbs (1st percentile) and her height was 24 inches (8th percentile). Her head circumference was 44 cm. Physical examination showed that the infant was well-developed. A pair of fully developed extremities originated from the patient's cervicothoracic midline, the extremities also showed apparent sensation and spontaneous movement in the toes.
Doctors advised a preoperative CT scan and MRI which showed a full bony pelvis, extremities originating from the craniocervical junction, a rudimentary scapula at the cervicothoracic junction. Two separate cervical canals with a patent neural foramina were also present, consistent with cervicothoracic diplomyelia. The posterior arches of the cervical vertebrae were not present. There were no other organ system anomalies. The parasitic twin was supplied with a distinct vascular pedicle, with the artery arising from the aortic arch. Whereas the vein drained into the superior vena cava through the paired azygos veins within the epidural space.
Operation and postoperative course
A multidisciplinary team including pediatric neurosurgery, pediatric orthopedic surgery, and pediatric plastic surgery excised the parasitic twin. Genetic analysis showed that the autosite and parasite both had identical DNA. By the 6th week, the patient was seen to be healing well. There were no signs of neurological compromise and the baby was seen to be recovering well.
Source: JNS