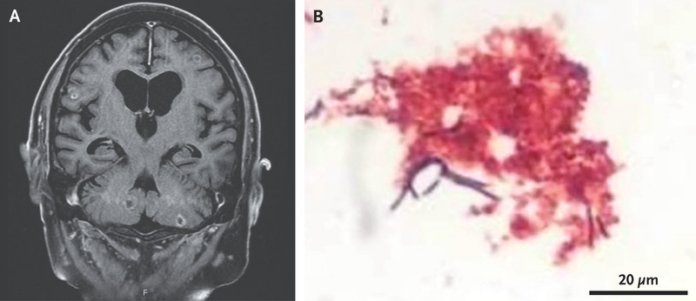 2-week history of fevers and low grade fever, manifestation of nocardia brain abscess
An 80-year-old male patient presented to the emergency department with a 2-week history of low grade fevers and confusion. His medical history revealed that he was undergoing treatment for multiple myeloma.
The patient's examination was significant for slurred speech. In addition, he was not oriented to place or time. Doctors advised a computed tomography of the head and radiograph of the chest for further evaluation. Both investigations were normal. The patient was started on broad-spectrum antibiotics. However, despite treatment, the patient showed lesser interest in the environment, had a slow response to stimulation and was sleeping more than normal.
Magnetic resonance imaging of the head showed multiple ring enhancing lesions
Doctors further performed a lumbar puncture, analysis of the cerebrospinal fluid showed 923 nucleated cells per microlitre with 91% neutrophils. The patient's glucose and total protein levels were also elevated. CSF culture was positive for Nocardia farcinica, consistent with the diagnosis of nocardial brain abscess.
Nocardia brain abscess is a rare condition and constitutes only 1 to 2% of cerebral abscesses. The mortality rate for nocardia brain abscess is higher than that of other bacterial abscesses. For this reason, early diagnosis and therapy is important. It generally occurs in immunocompromised patients, as noted in this case. However, critical infection in immunocompromised patients is extremely rare.
Nocardia are gram-positive bacilli that invade the lungs, skin and central nervous system, especially in patients who are immunocompromised. In this case the patient was treated with a prolonged course of antibiotics. The patient had an eventful recovery period. While he was at the hospital he developed a subarachnoid hemorrhage, a mycotic aneurysm, and hemiplegia. He was eventually discharged home.
Source: NEJM