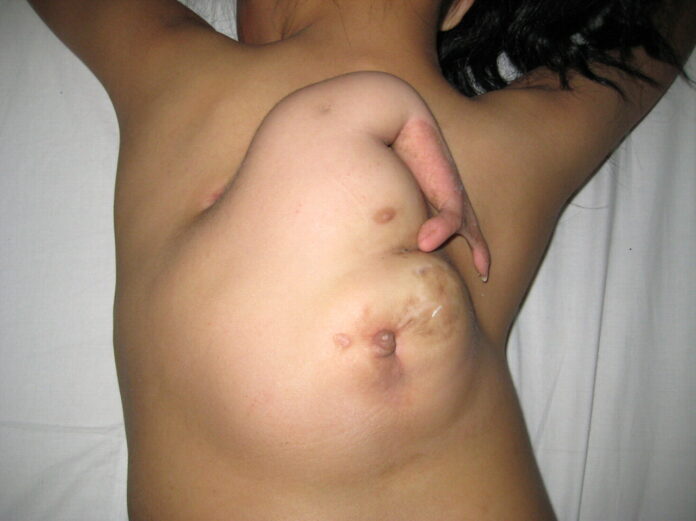 Fetus in fetu in the back of an 11-year-old
Fetus in fetu is defined as a rare congenital anomaly in which a malformed and parasitic fetus is located in the body of its twin. The anomaly was first described by Meckel in the 19th century. Despite being prevalent among infants and children, only a few cases of the anomaly have been reported to date. It largely remained asymptomatic until later ages. Since its definition in the 19th century, it has been reported around 100 times.
Case study
This article describes the case of an 11-year-old who was hospitalized with a large mass in her back. She was a second child and there was no history of twin pregnancies or fetal malformation in the family. On examination, the large mass had two parts. An upper part consisted of a mammary gland and an attached upper limb with a scapular, humerus, and two fingers. Whereas the lower part consisted of a thick-walled sac with mucosal fluid discharge. There was no clear cleavage plane between the autosite and parasite.
Doctors advised an anteroposterior spine radiograph that showed congenital scoliosis anomalies. Whereas a CT scan was also performed which showed diastematorrhacia and diastematomyelia in the thoracolumbar region. Based on these findings, the doctors diagnosed the patient with a fetus in fetu. The fetus was surgically removed. Histopathological analysis of the excised sac specimen showed stratifying squamous epithelium and digestive tract mucosa. Fetus in fetu is a rare condition that is reported one in 500,000 live births. It is described as a malformed parasitic monozygotic diamniotic twin found inside the body of a living child or adult. It can also be seen in other locations including the mouth, scrotum, sacrum, and skull. However, it has never been reported in the back. In 80% of the cases, it is reported in the retroperitoneum.
Source: BMJ