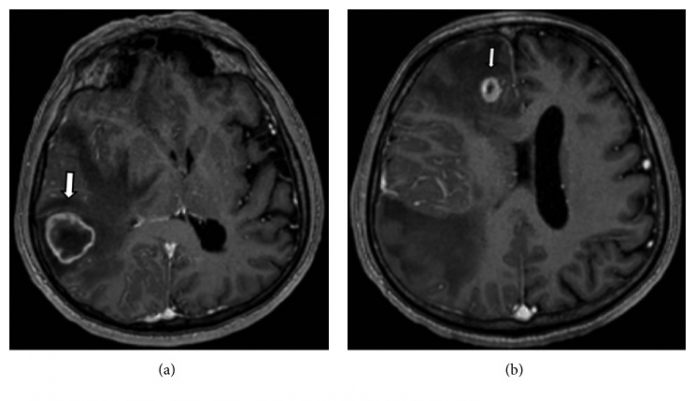 Isolated Brain Metastases from Gastric Cancer
This article describes the case of a rare occurrence of isolated brain metastases from gastric cancer in a 68-year-old Albanian male patient. The patient's medical history revealed hepatitis B with signs of progressive dysphagia to solids. Doctors advised barium swallow for further evaluation and to rule out the possibility of esophageal dysmotility problem. In addition, advised an ultrasound which showed no acute findings.
A subsequent esophagogastroduodenoscopy was also performed which revealed a nodule in the distal esophagus, including a large, friable and ulcerated mass which extended to the gastroesophageal junction along the gastric cardia. Pathological analysis of the nodules showed adenocarcinoma, intestinal type, with neoplastic glands which infiltrated the muscularis mucosae. The biopsied nodule showed high-grade dysplasia, whereas antral biopsy showed reactive mucosa. The patient's cancer was staged using positron emission tomography scans.
The scans confirmed the diagnosis of gastric mass with presence of two fluorodeoxyglucose avid lymph nodes.
Treatment included neoadjuvant chemotherapy with epirubicin, oxaliplatin, and capecitabine. In addition, doctors advised a total gastrectomy with esophagojejunal anastomosis. The patient was treated with paclitaxel, capecitabine, and pegfilgrastim kit following surgical resection.
A year later, the patient presented with a 3-6-week history of photophobia, nausea, dizziness, falls and holocranial headaches. MRI of his head without contrast showed three peripherally enhancing lesions in the right cerebral hemisphere with oedema in the surrounding. The largest lesion was present in the right temporoparietal lobes. This caused a mass effect with midline shift. The patient underwent right temporoparietal craniotomy to resect the largest tumour.
He subsequently underwent gamma knife radiosurgery for the remaining two metastases. Similarly, he was also offered systemic chemotherapy, however, he declined and went for close monitoring. The patient, as of July 2018 is stable with no new brain lesions or evidence of metastases.
References
A Rare Occurrence of Isolated Brain Metastases from Gastric Cancer https://www.ncbi.nlm.nih.gov/pmc/articles/PMC6360578/