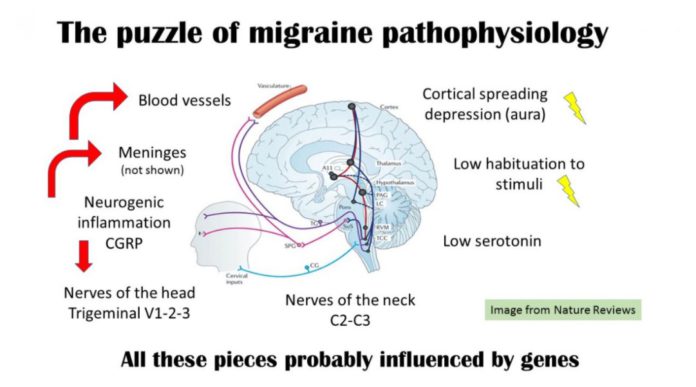 A teenager suffering from debilitating migraine gets substantial relief after a therapeutic neck exercise program!
A 15-year-old girl presented to the outpatient department with complaints of severe right-sided headache. She missed 2 weeks of school due to severe migraine. Around a year back, she had developed similar complaints which lasted for 12 days. At that time, a paediatric neurologist had diagnosed her with migraine without aura and treated her with Topamax.
The patient was taking Topamax 50 mg b.i.d. Subsequently, her symptoms improved, and the frequency of headache significantly reduced. However, she was not able to cope up with the side effects and felt constantly lethargic with clouded thinking.
Doctors decreased her Topamax dose to 25 mg daily. Consequently, the headaches increased both in severity and frequency.  Her neurologist added Diamox to her treatment regimen. However, she was not able to tolerate adverse effects. The neurologist started her on Propranolol but the headaches remained unchanged.
Migraine:
During the current presentation, the patient revealed that her headache is throbbing in nature and worsens with activity. Consequently, severe headache forced her to miss school. She described that the headache usually starts from the right temple and spreads to involve the entire right side of her head from the base of her skull to the forehead and into her right eye.
Moreover, when her headache is worst she also experiences photophobia and dizziness. However, she didn't experience phonophobia, sensitivity to smell, nausea, or focal neurological symptoms. The frequency of headache, on average, was 4 days a week at the time of her initial appointment with us. There was a family history of migraine in her grandmother. Sumatriptan 50 mg would relieve her headache and make her go to sleep for the next 2 to 3 hours with significant headache relief. Per month, she would need at least 8 sumatriptan tablets per month.
Besides headache, she also experienced daily neck tightness. Neck pain/tightness was associated with headache, and so was shoulder tightness, and stress.
Her Headache Impact Test score was 76 at her first visit, indicating very severe life impact.
Past medical history was positive for syncope, anxiety, iron deficiency anemia, and allergic rhinitis. She did not smoke, drank alcohol, or used any illicit drugs. She had a normal and regular sleep cycle with 8 hours of sleep per night.
Examination:
On examination she was normotensive and afebrile. The patient enrolled in a therapeutic neck exercise protocol with each visit of approximately 45 minutes. Then, her physician also directed her to perform repeated neck movements and/or sustained neck positions. The physician also recommended her to change sleep posture to avoid neck-unfriendly positions, including sustained cervical rotation. For example, prone sleeping should be avoided.
The patient also underwent counselling regarding important lifestyle changes such as sleep, diet, exercise, and stress management. The treatment period has been 17 weeks.
As a result of the neck exercise therapy, her migraine frequency reduced from an initial 16 per month to 0 migraine days per month. Subsequently, she completed 11.4 weeks of migraine-free days. Moreover, she could discontinue Tylenol and sumatriptan after therapeutic neck exercise program and she had no adverse events.
Headache impact test score improved from 76 (severe life impact) to 55 (some life impact). Above all, her cervical range of motion increased from 35 degrees to 62 degrees over the course of her therapeutic neck exercise program and her neck pain also resolved.
Since this case proves a positive role of neck therapeutic exercise program in the management of migraines, it opens doors to a new era of research. The role of cervical spine/structures in the pathophysiology of migraine requires more studies.
References:
Holt N, Kurka C (2020) Teenage Girl with Migraine Whose Symptoms Resolve with a Therapeutic Neck Exercise Program: A Case Report. J Fam Med Dis Prev 6:126. doi.org/10.23937/2469-5793/1510126