A 41-year-old patient lost her hair after using a hair dye containing paraphenylendiamine (PPD).
A 41-year-old female presented to the hospital with complaints of facial edema, hair loss, and severe itching of the scalp. The patient revealed that her symptoms started after she used a hair dye. According to her, 1 day after the use of a hair dye she developed itching of the scalp, whereas she noticed hair loss 6 days later.
Over the span of next 4 months, it involved 90% of the scalp, consequently leading to hair loss. Some white hair regrowth was seen as shown in the picture below.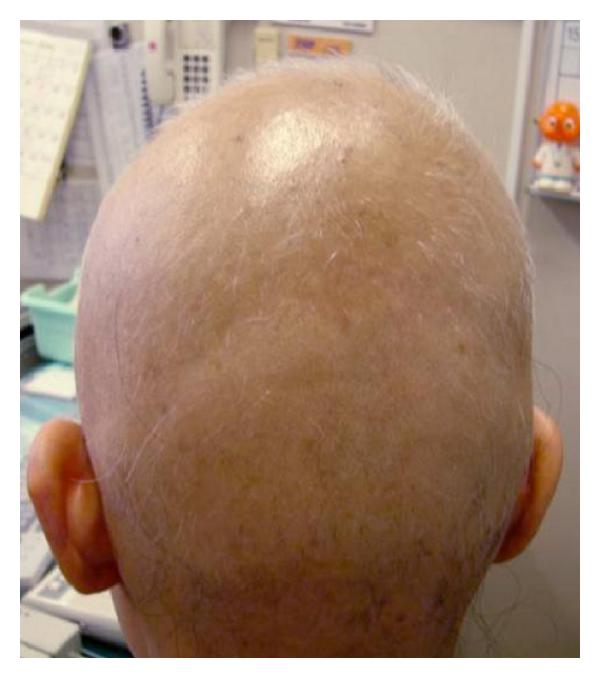 Upon inquiring further, the patient revealed that she started dying her hair approximately 5 years back. However, since the past few months, she had started developing itchy scalp within 1 to 2 days of applying hair dye.
Moreover, the patient had no past- or family history of dermatitis or allergic reaction.
Serological investigations revealed no abnormalities.
A patch test showed a (++) reaction at 48 h and 72 h to 1% PPD. Therefore, the patient received a diagnosis of contact dermatitis due to PPD, which consequently resulted in hair loss.
The doctors started her on systemic corticosteroids. The skin lesions gradually improved. Moreover, they advised her to avoid the allergen, therefore, she stopped using the hair dye in question. Thereafter, she didn't have any recurrence for 18 months. However, such patients can use hair colours which do not contain PPD (PPD-free dyes).
Allergic reaction to hair dye:
Contact dermatitis to PPD in hair dye is seen in 0.1% to 1% of the individuals. It may not remain to localised to scalp, the allergic reaction may involve the forehead, eyelids, face, ears, and neck. It usually presents as itchy, edematous, erythematous scaly patches/plaques. In contrast, sometimes vesicular lesions may also occur. However, hair loss is a rare presentation. The disease requires oral corticosteroids and may take several weeks to fully resolve. Moreover, some patient may also develop other skin reactions including post-inflammatory hyper-or hypopigmentation.
Moreover, it is equally imperative to educate the patients about other PPD containing products that can result in similar allergic reactions.
References:
Waka Ishida, Teruhiko Makino, Tadamichi Shimizu, "Severe Hair Loss of the Scalp due to a Hair Dye Containing Para phenylenediamine", International Scholarly Research Notices, vol. 2011, Article ID 947284, 2 pages, 2011. https://doi.org/10.5402/2011/947284