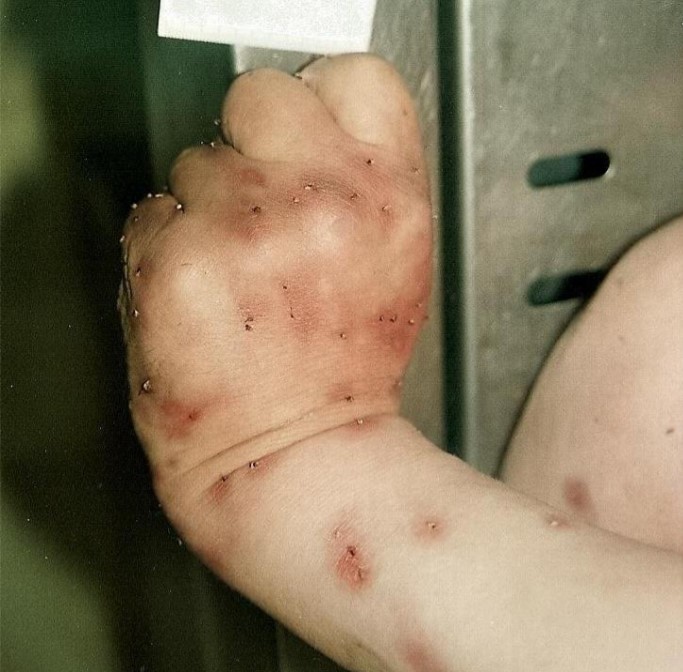 A 49-year-old man, with a history of bee sting allergy, was found dead near honeybees nests with bees on him.
A 49-year-old man was found dead near nine honeybee nests with honeybees on him. The patient had a history of allergic reactions to bee stings/ bee sting allergy.
 External examination of the body revealed more than 50 stings scattered all over the body. A medico-legal autopsy revealed pulmonary oedema and laryngeal oedema.
 With the positive history of allergic reactions to bee stings, autopsy findings, and crime scene investigations, the cause of death was concluded to be an anaphylactic shock to bee stings.
Although death due to bee sting allergy is rare, it is potentially a serious condition and a common cause of severe allergic reactions. Different people may react differently to the bee sting so the severity cannot be standardised. Usually, there are no serious complications. Most victims suffer a non-serious, local allergic reaction; however, a severe reaction may lead to life-threatening anaphylaxis (seen in 2% of people). Although bee sting related deaths have been reported in the past, most of those did not have allergic manifestations, which highlighted the toxic effects of bee sting.
Honeybee venom, known as apitoxin; is a bitter but colourless liquid with inflammatory and anti-coagulative properties.  With each sting, the honeybee can inject 0.1 mg of its venom via its stringer. The major toxic effects include haemolytic anaemia, acute renal failure, and shock.
As for any patient with allergic reaction and a potential to have anaphylaxis, patients with allergy to bee sting are also advised to always carry an EpiPen® in case of anaphylaxis. Also, patient education and counselling remain indispensable.
References
Nezih Anolay, M. N. Death Caused by Honey Bee Stings: Case Report. Retrieved from Medicine Science 2014;3(2):1305-14: DOI:10.5455/medscience.2014.03.8126