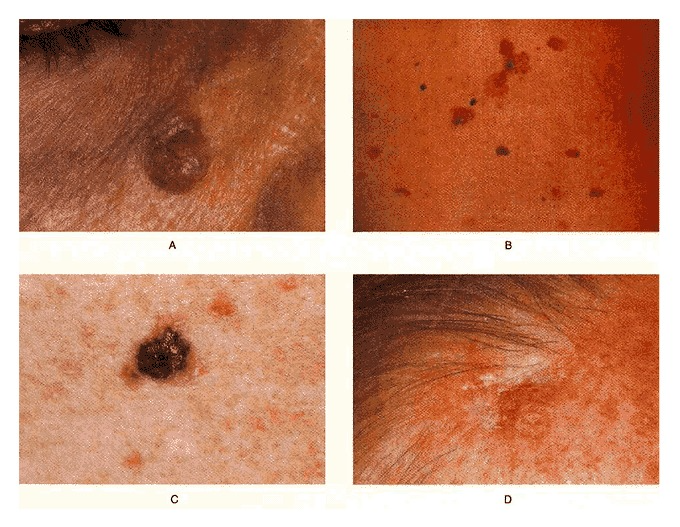 Basal cell carcinoma is defined as a type of skin cancer that begins in the basal cells. Basal cells are a type of cell within the skin that as the old skin cells die off, produce new cells. It presents with a slightly transparent bump on the skin. Although, it can present in other forms also. The carcinoma most commonly occurs on areas of the skin exposed to the sun, for example, the head and neck.
Studies have shown that most carcinomas are caused because of long-term exposure to ultraviolet (UV) radiation from sunlight. You can protect yourself from basal cell carcinoma by avoiding the sun and using sunscreen. This article describes the case of basal cell carcinoma in a 29-year-old woman with a history of 5 years. Although it most commonly presents as a classic pearly papule, it can take other forms. Examination was consistent with multiple superficial multicentric lesions on the patient's back. The lesions are often associated with the ingestion of inorganic arsenic. A pigmented lesion that can be mistaken for melanoma was also evident. A cicatricial lesion that had been present on the patient's forehead for 5 years was also noted.
Basal cell carcinoma appears as a change in skin that won't heal
Basal cell carcinoma most commonly develops on parts of the body exposed to the sun, especially the head and neck area. It is less commonly found on parts of the body protected from the sun, such as the genitals. It presents in the skin as a sore or a growth that won't heal. The changes appear as shiny, skin-coloured bumps that are translucent. The bump may also look pearly white or pink on white skin tones. Whereas it may appear as glossy black. Tiny blood vessels may also be visible but may be difficult to see on brown or black skin. Other signs include bleeding and scabbing over the bump.
Source: NEJM