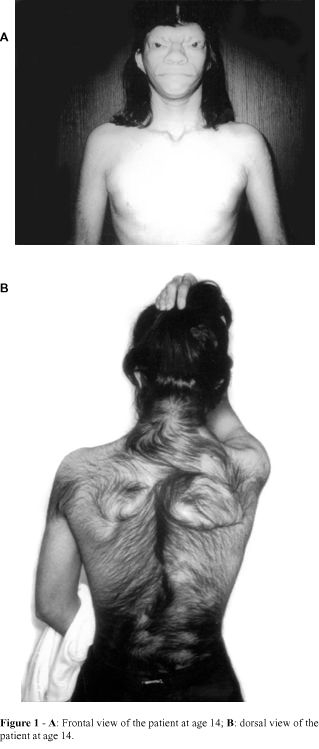 Case of a 14-year-old with a multiple congenital anomaly pattern.
This article describes the case of a 14 year-old diagnosed with Barber Say syndrome. Her medical history revealed that she was the last of eight otherwise healthy siblings. She was was the eighth child of nonconsanguineous parents; her mother was 41, whereas father 42 years old when the child was born. There was no significant family history. The pregnancy and delivery were both normal and the child was born at a healthy weight of 3400 g and length 50 cm.
Physical examination
The patient's physical examination was remarkable of severe hirsutism of the back, redundant thick skin, helix agenesis of both ears, macrostomia, telecanthus, hypertelorism and ablepharon. Although, there were no signs of any visceral abnormalities during the neonatal period.
Doctors evaluated the patient at the age of 13. She showed normal mental development. Her anthropometric measurement were recorded as height, 147.5 cm (10th percentile); weight, 37.4 kg (15th percentile), and head circumference, 52.2 cm (40th percentile). Further examination showed a redundant frontal skin with dark thick hair. In addition, her external auditory canals were narrow and tortuous, her ears were low set small with a prominent antihelix. Examination showed prognatism, macrostomia with thin lips, bulbous nose with anteverted nares, telecanthus, hypertelorism, sparse eyebrows and eyelashes, ectropion, ablepharon and an aged appearance.
Hirsutism of the forehead, neck and back were also evident. Skin over the patient's chest was atrophic with atrophic nipples. Further examination did not reveal any significant findings.
Barber Say syndrome
Barber Say syndrome is a rare condition which presents with symptoms of excessive hair growth and atrophic skin. There are only 20 cases in medical literature. The present
ation, however, varies depending on the severity of the case.
References
BARBER-SAY SYNDROME: FURTHER DELINEATION OF THE CLINICAL SPECTRUM http://www.scielo.br/scielo.php?script=sci_arttext&pid=S1415-47572000000200003