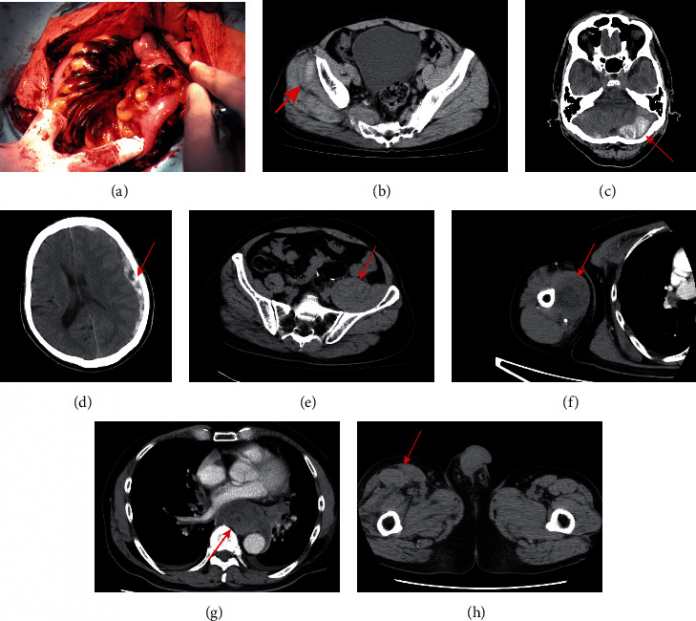 Autoimmune factor V deficiency diagnosed in patient after 16 years.
This article describes the case of a 70-year-old male patient who presented to the hospital with pain in the right thigh. Doctors diagnosed the patient with autoimmune factor V (FV) deficiency. The diagnosis took 16 years because of the pseudo-deficiency of multiple coagulation factors.
Doctors advised a computed tomography (CT) scan which showed a hematoma of the right thigh. Although doctors advised hospitalisation, he opted for outpatient treatment with tranexamic acid. He had been treated earlier with a similar treatment for his condition. He was given hemostatic infusion for for three days in the outpatient clinic. His hemoglobin levels dropped from 13.2 g/dl from one month ago dropped to 11.3 g/dl on the day of injury and to 7.9 g/dl two days after the injury. The pain decreased and there was no progression of anaemia. On the fourth day, the infusion was stopped.
The patient's medical records showed that the patient had also presented to the hospital for haemorrhage, at the age of 54 years. Laboratory results showed an abnormal prothrombin time (PT) % of 21.0% and activated partial thromboplastin time (aPTT) of 99.4 seconds. Even after referral to two university hospitals, doctors could not find specific cause to his condition. According to the doctor at the hospital, "factor VIII 4.7% and factor IX 0.6% suggest a broad spectrum of coagulation factor abnormalities. Although he had positive lupus anticoagulant (LAC), the diagnosis of antiphospholipid antibody syndrome could not be made. We cannot make a diagnosis, but FFP improves the coagulation activity to some extent, so use it in the event of bleeding."
The patient experienced recurrent bleeding events with major bleeding that occurred every 2 years.
The bleeding occurred in the ilium, pelvic cavity, subdural, iliopsoas, brachial muscles, and mediastinum. Although, the bleeding would heal with conservative treatment within a few days. Doctors diagnosed the patient with "circulating anticoagulant factor disorder" at the outpatient clinic of the hospital. However, there was a high probability of additional serious bleeding events because of the patient's age. Therefore, doctors decided to examine the patient again.
The patient did not have a history of any chronic illnesses, for example, collagen disease or allergic diseases. He underwent a gastroscopy at the age of 54. In addition, doctors prescribed tranexamic acid. Physical examination did not show any subcutaneous haemorrhaging. Laboratory tests showed prolonged PT-INR and aPTT which led us to suspect diseases including vitamin K deficiency, antiphospholipid antibody syndrome, liver failure, disseminated intravascular coagulation (DIC) and drugs, for example, DOAC, argatobran and heparin.
Doctors further suspected a deficiency of coagulation factor II, V, and X.
To investigate whether the coagulation tests changed with factor V supplementation, doctors performed a hepaplastin test (HPT) and thrombotest (TT). The tests determined that the patient was FV deficient because of a difference in TT. This was induced by a high-dose of bovine FV supplementation. Cross-mixing test confirmed that the patient had an autoimmune factor V deficiency. Doctors planned on treating him with immunosuppressive drugs in the future.
References
Autoimmune Factor V Deficiency That Took 16 Years to Diagnose due to Pseudodeficiency of Multiple Coagulation Factors https://www.ncbi.nlm.nih.gov/pmc/articles/PMC7815411/