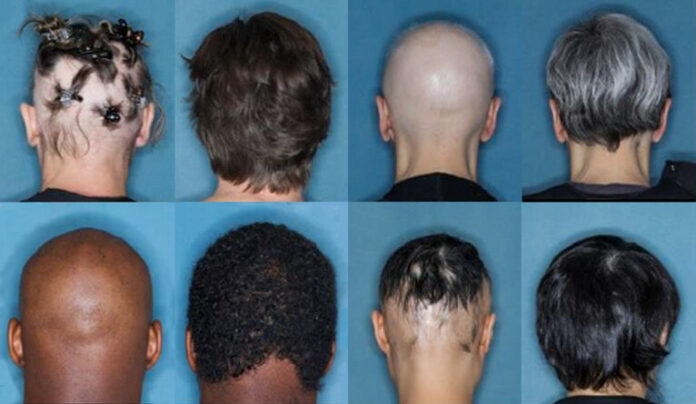 One in three alopecia patients regrew hair after receiving a common arthritis drug as part of two phase 3 trials.
In a study published in the New England Journal of Medicine, researchers described the results from two phase 3 trials that tested a common arthritis drug on alopecia patients. Led by Dr. Brett King, the team recruited a total of 1,200 adults who had lost at least half of their scalp hair due to severe alopecia areata. The team from Yale University conducted two randomized trials where patients either received a daily dose of baricitinib or a placebo. Eli Lilly, the company that developed baricitinab, is funding both trials.
Baricitinib is a Janus kinase (JAK) inhibitor used for the treatment of rheumatoid arthritis. Janus kinase enzymes are generally involved in causing inflammation which results in joint tenderness, pain, and swelling in arthritis patients. Inhibition of these enzymes disrupts the inflammatory cytokines and improves symptoms. Previous studies have also investigated the drug's use for treating COVID-19. In a recent trial, a combination of baricitinib with the antiviral remdesivir reduced recovery time and improved symptoms in moderate to severe COVID.
For the Yale study, researchers tested two different doses of the drug: 4 milligrams or 2 milligrams. Participants received the drug, or placebo, for a period of 36 weeks. The researchers assessed hair growth using the Severity of Alopecia Tool (SALT). The scale has scores from 0 to 100: 0 denotes no loss of scalp hair while 100 means complete scalp hair loss. At the start of the trial, study participants had a score of at least 50.
Hair Regrows in One-Third of Patient
In the clinical trials, one-third of the patients in the high-dose group experienced hair regrowth. At the end of the study, 35% of people on the higher dose and 20% of the lower dose group had a SALT score of 20 or less. Moreover, both trial's participants experienced an improvement in hair regrowth compared to the placebo group.
According to the study authors, baricitinib helps treat alopecia by inhibiting communication between inflammatory immune cells that are involved in the destruction of the hair follicles. Thus, helping in hair regrowth.
Lead author, Dr. Brett King called the results 'exciting'. However, it is important to note that the use of baricitinab is associated with multiple side effects. These include lowered immunity which puts people at an increased risk of infections such as cellulitis, chest infection, and cold sores. Moreover, people can also experience raised cholesterol levels, low white blood cell count and increased liver enzymes. In some cases, the drug can also increase one's chances of blood clots.
Both trial participants experienced respiratory tract infections, headaches, acne, urinary tract infection, and elevated creatine kinase levels. Furthermore, cases of herpes zoster also occurred more among those receiving the drug than placebo.
Although the treatment group demonstrated superior results in terms of hair growth, the drug did cause significant adverse events in the participants. The clinical trials are currently ongoing as researchers plan to assess the treatment's long-term effectiveness and safety.
Alopecia Areata and its Treatments
Alopecia areata is an autoimmune condition that presents as nonscarring hair loss, affecting any site of the body. Hair on the scalp, and sometimes even eyebrows and eyelashes can undergo rapid loss. The disfiguring skin disease affects more than 6 million people in the United States.
Unlike androgenetic alopecia which results from hormonal factors, alopecia reata arises when the body's own white blood cells begin to attack hair follicles. Thus, causing their shrinkage and reduced hair production. It is unclear why the immune system attacks the hair follicles. However, scientists believe genetics play a role as the condition often runs in families.
Patchy hair loss, mainly at the scalp, is the most common symptom. This can progress to alopecia totalis where the person completely loses all the hair on the scalp. However, people can also experience hair loss from the beard and eyelashes. Moreover, changes can also develop in fingernails and toenails. In some people, hair loss is sudden and develops over a few days or weeks. While the disease can begin at any age, it mostly occurs before the age of 30.
For people with mild disease, the hair may grow back within a year, without any treatment, but severe cases are difficult to treat. Doctors may prescribe a combination of drugs involving steroids and anti-inflammatory drugs that suppress the immune system. However, there is no cure for the condition.
The trial's results might result in the first FDA-approved treatment for alopecia areata.
Reference:
King, Brett, et al. "Two Phase 3 Trials of Baricitinib for Alopecia Areata." New England Journal of Medicine, 2022, doi:10.1056/nejmoa2110343.
Kalil AC, Patterson TF, Mehta AK, et al. Baricitinib plus Remdesivir for Hospitalized Adults with Covid-19. N Engl J Med. 2020 Dec 11.