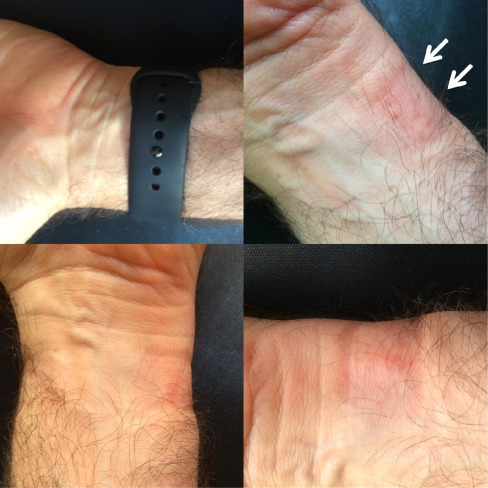 Can wearing an Apple watch be injurious to health? A 57-year-old male presented with a rash on the left wrist, where he wore his Apple watch band.
A 57-year-old male presented to the dermatology clinic with complaints of pruritic erythematous rash on the left wrist. The rash was in the form of a 2 cm wide band on the medial flexor aspect of the left wrist. The rash was exactly at the part where the patient wore his Apple watch band. However, in the past he had never experienced similar rash with his other watches.
The patient revealed that the itching is moderate in severity. He graded it as 5 out of 10 in severity. He reported the rash first-time several weeks after purchasing an Apple Watch. Since the time he had bought the Apple watch, he was wearing it daily from morning until bedtime. However, he would remove the watch in the shower. But he continued wearing while exercising (high sweat environment).
For monitoring heart rate, he would wear the watch very tightly as he thought that it would give him more accurate reading. He told his symptoms were not continuous, instead, he had intermittent and unpredictable symptoms. Moreover, the symptoms would not necessarily worsen after exercising. He also noticed that the rash would appear only when wearing the band tightly. Whenever he wore the band loosely, he did not get a rash. He used the black sport band that came with the watch and had not used any other band.
The patient did not take any treatment as he thought the symptoms were not severe enough to warrant treatment. Neither had he ever had a formal nickel allergy test before as he never had problems with nickel or other metals in the past.
The doctors suspected contact urticaria and contact dermatitis. Since his symptoms would disappear within hours of removing the watch, doctors were more in favour of the former than the latter.
Smartwatches are heavier than regular watches and the users tend to wear them tightly to get an accurate reading of their heart rate via the sensors in the smartwatches; therefore, the chances of allergy are more with smartwatches. Moreover, the high sweat environment followed by drying can potentially build up salt and thus worsen the irritation. Therefore, smartwatches come with instructions to keep skin dry and clean. Also, the wearers should wear the watch with appropriate tightness rather than making the band too tight.
Reference:
Hawkins SD, Feldman SR, Contact urticaria caused by the Apple Watch – A case report, Journal of Dermatology & Dermatologic Surgery, 21: 2; 2017:84-86; 2352-2410, https://doi.org/10.1016/j.jdds.2016.08.003.