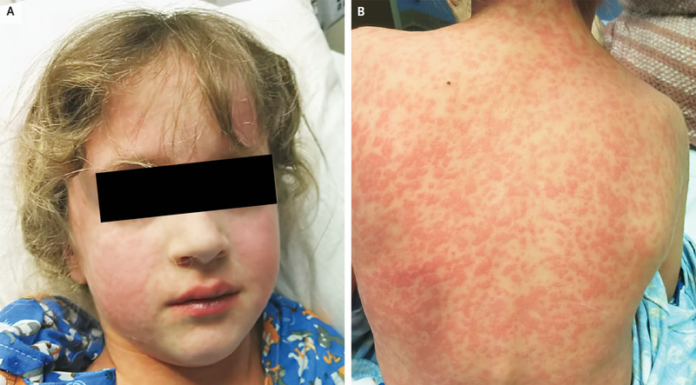 Case study: amoxicillin rash
This article describes the case of a 7-year-old girl who presented to the emergency department with complaints of an itchy rash. Eight days prior to the presentation, the patient was prescribed amoxicillin for pharyngitis by her paediatrician. Doctors diagnosed the patient with an amoxicillin rash in infectious mononucleosis.
On examination the patient's temperature was 39.8°C. Physical examination was significant for generalised erythematous papules and macules involving the face, trunk, arms and legs. However, the rash was not evident on her palms and soles of the feet. Other findings included purulent tonsils and enlarged anterior and posterior cervical lymph nodes. Further laboratory studies showed a "white cell count of 8700 per cubic millimeter (reference range, 4000 to 11,500), with 66% lymphocytes (reference range, 20 to 40)". Similarly, the patient's mononuclear spot test was positive. Based on these findings, doctors diagnosed the patient with an amoxicillin rash.
The patient was previously evaluated by her paediatrician for pharyngitis and was diagnosed with infectious mononucleosis
Patients receiving amoxicillin for mononucleosis caused by Epstein-Barr virus may often develop a morbilliform rash. Although the rash is not a predictor of a true allergy to penicillin, it is advised to stop the amoxicillin right away. As with this case, doctors advised the patient to stop taking the medication and the rash resolved completely after 3 weeks.
Amoxicillin comes in different forms including liquid, tablets and capsules. It is used for the treatment of bacterial infections. However, a common side effect of the medication is a skin rash. Amoxicillin comes from penicillin which is known to cause allergic reactions in some people. The rash can be mild or severe, depending on how sensitive the person is to the medication.
Source: NEJM